Digidesign Announces Eleven – Virtual Amp Plug-In For ProTools
Digidesign has announced Eleven, a new guitar amp plug-in for Pro Tools, VENUE live sound, and Avid systems. Created using a tone-cloning technique, Eleven offers a emulations of modern amplifiers and speaker cabinets based on amps and cabinets from Vox, Fender, Marshall, Mesa/Boogie, and Soldano, as well as several custom Digidesign creations. Eleven also features convolution-based speaker cabinet and microphone (on- and off-axis) modeling, the latter of which features emulations of popular dynamic, ribbon and condenser microphones.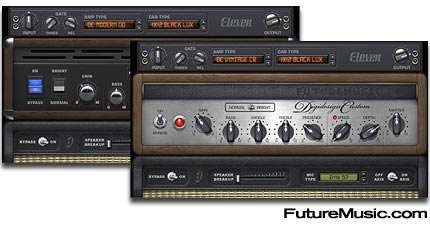 Eleven will be available in two versions, Eleven and Eleven LE. Eleven will support TDM, RTAS, and AudioSuite plug-in formats for use with Pro Tools|HD, ICON, and VENUE systems. Eleven LE will support RTAS and AudioSuite plug-in formats for use with Pro Tools LE and Pro Tools M-Powered systems. The trial version is a free download from the Digidesign website, and is available for the following system configurations:
• Digidesign-qualified Pro Tools|HD, Pro Tools LE, or Pro Tools M-Powered system running Pro Tools 7.1 or higher software (Pro Tools 7.3 or higher recommended)
• Qualified Avid Xpress, Avid Xpress DV, or Avid DNA system (AudioSuite only)
Digidesign's Eleven is available now as a 30-day prerelease trial version for qualified Pro Tools and Avid system users. No official pricing or availability has been announced. More information on Digidesign Eleven.