Adobe Readies Audition 3
Adobe has upgraded Adobe Audition to version 3. The new Adobe Audition 3 was designed to give audio professionals, sound designers, recording and mastering engineers, and musicians, a flexible production toolkit for recording, mixing, editing, and mastering audio.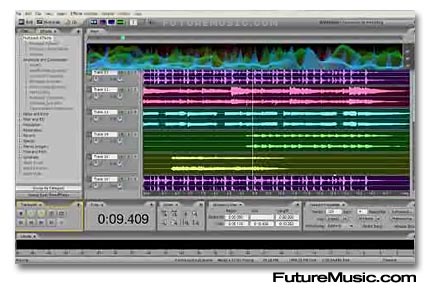 With audio mastering and restoration capabilities, Adobe Audition 3 helps professionals create music and radio spots, as well as restore imperfect recordings with sophisticated editing tools. New features include VSTi virtual instrument support with MIDI piano roll, enhanced spectral editing options, fast fade and crossfade controls, and advanced multi-core support.
New Features & Enhancements:
• VSTi virtual instrument support
• Improved multitrack editing
• Enhanced spectral editing
• Top/Tail Views – Easily tweak the start and end of a loop or other audio file
• New effects: Convolution Reverb, Analog Delay, Mastering tool, Guitar Suite, and Tube-modeled Compressor
• Optimized mix engine allows for more tracks and effects and faster processing.
Adobe Audition 3 will be available sometime in November for $349. More information on Adobe Audition 3.