TestDrive: KRK VXT8 Monitors
The rule of thumb when buying a proper home sound system is that you should spend half your budget on the speakers. Although, you can't necessarily apply this formula to your studio, it does demonstrate how important a quality pair of monitors is to your kit. If you feel that your mixes come up wanting after hours of hard work behind your desk, it may be time to consider a new set of monitors.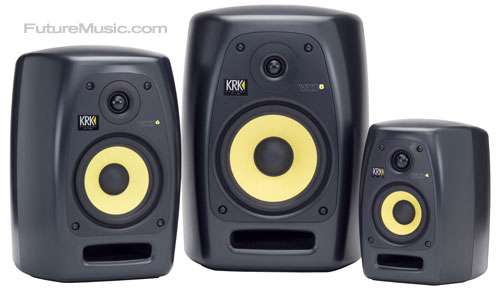 KRK Systems recently sent us a pair of their new VXT8 monitors for a TestDrive. The new VXT line is based on KRK's premium Exposé series and consists of three models — the VXT4, VXT6, and VXT8. The numbers depict the woofer size of each monitor.
The Exposé and VXT monitors are a complete revamp of their monitor technology, and usher in a new era for the company. For fans of KRK, the concern kept what was working, like the Kevlar woofers, and changed what wasn't, the form factor. The difference is obvious when you first lay eyes on the VXT, all the boxy lines from past models have been softened with curves, replacing almost all perpendicular angles. More…
Read the entire KRK VXT8 Monitors review at FutureMusic's TestDrive!