Adam Audio Announce S7A Mk2 4-Way Flagship Monitors & Massive Sub2100
Adam Audio has announced that their new flagship main monitor, the S7A MK2, an active, 4-way design that combines paper woofers and Hexacone midwoofers with ADAM's next-generation X-A.R.T. folded ribbon midrange drivers and tweeters, is now shipping.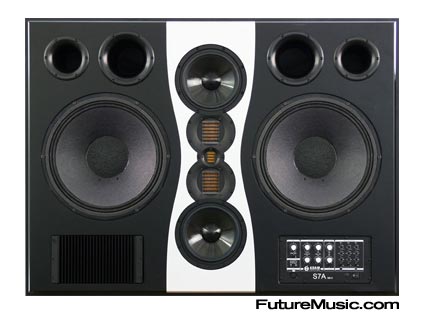 The S7A MK2, a full range system for larger control rooms, is a combination of Adam's proprietary transducer technology, modern PWM amplifier design, and a d'Appolito speaker alignment (symmetrical drivers with respect to the vertical plane).
For onboard power, the monitor uses a 500-watt ICE Amp to drive each of the 15″ bass cones. 4 more ICE Amps, each at 250-watts, handle the remaining 5 drivers. Its 1500-watt, industrial strength power supply guarantees that the amplifiers will be able to handle whatever they are given, including extreme volume peaks at low frequencies.
A comprehensive control panel is mounted on the front of the S7A Mk2. Users have control over input gain, the relative gain of each frequency band, high- and low-shelving filters, and 3 fully parametric bands of EQ available between 20 and 200 Hz. Cinematic mixers will appreciate the Dolby X-Curve button conveniently located on the front panel.
Features and Specifications:
• 4-way active bass reflex speaker
• Woofer – 2 x 15" Paper
• Midwoofer – 2 x 9" HexaCone®
• A.R.T. tweeter – 1
• A.R.T. midrange 2
• Freq.response 20Hz – 50.000Hz ±3dB
• Front panel – Input/HF gain, Hi/Lo EQ adjustment, standby 3 parametric EQ's 20 – 500Hz
• Power – 2 x 500W RMS (700W music) 4 x 250W RMS (300W music) 1,500W RMS (2,000W music) power supply
• Maximum SPL per pair (continuous music) ≥ 143 dB
• Inputs (switchable) – 2x XLR symmetrical (1 front, 1 backside)
• W x H x D – 47.2″ x 35.4″ x 27″
• Weight – 375 lbs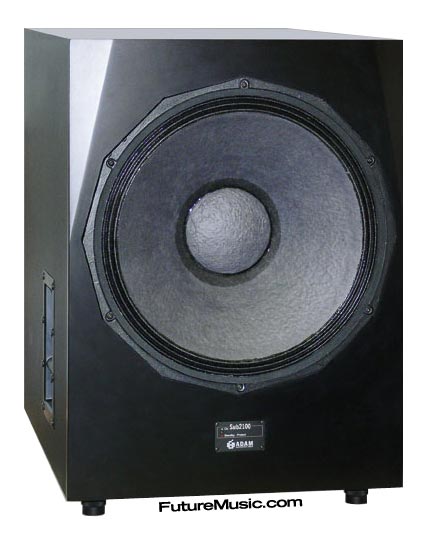 Adam Audio also announced that it is now shipping their largest subwoofer to date, the Sub2100. This new sub is designed to support mid-field and main monitors in substantial surround systems, and larger control rooms requiring more power for extended low frequencies.
The Sub2100 combines a 21" paper woofer with an ICE Amp capable of delivering 1000 watts of continuous power, housed in a bass-reflex enclosure tuned to reproduce frequencies down to 20 Hz. The massive power and the extremely high efficiency (99 dB/W/m) enable this system to produce linear SPL peaks of 128 dB without any significant compression.
Essential to the performance of this woofer is its large voice coil. At 152 mm, it is the largest voice coil available in the world toady. This unique speaker motor controls the cone's movement completely, enabling it to reach the highest SPL in the lowest frequencies perceivable by the human ear. A detailed control panel including phase, filter, and level controls allow the Sub2100 to be dialed in to the specific needs of varied control rooms.
Features and Specifications:
• Active bass reflex speaker
• Woofer – 543 mm (21"), paper
• Freq.response – 18 Hz – 150 Hz (± 3 dB)
• Panel – Gain, filter adjustment, phase reverse button, mode button, satellite hpf button
• Power – 1000 W (sin), 1200 W (RMS)
• Maximum SPL ≥ 128 dB
• Inputs – Stereo XLR, stereo RCA (unbalanced)
• Outputs – Satellite stereo XLR and RCA, sub out XLR
• W x H x D – 23.6" x 33.5" x 27.7"
• Weight – 187.4 lbs
Adam's S7A MK2 cost $22,000 each, or $44,000 for a matched pair and are available now. Adam's Sub2100 is available now for $6000. Both come with 2 year warranties. More information about Adam's new monitors.