Sony Readies PCM-D50 Digital Recorder
Sony is set to release the new PCM-D50 Digital Recorder this weekend. The D50 is a powerful, compact version of Sony's flagship PCM-D1 Digital Field Recorder, and offers 24 bit / 96 kHz recording, two-position Electret Condenser Stereo Microphones, and PC/MAC file transfer via USB 2.0, at only 1/3rd the cost of its big brother.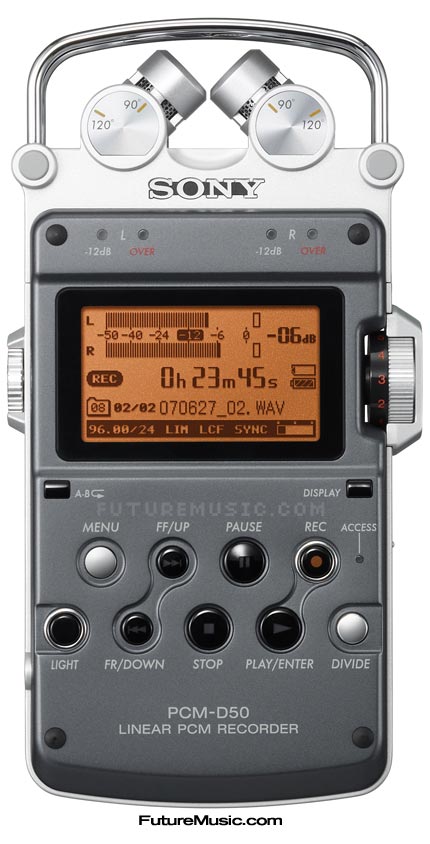 The PCM-D50 lets Sony address the entry-level digital recorder market that's currently being dominated by M-Audio's MicroTrack II and Zoom's H4. Considering the feature set, robust build quality, high-res audio, and extremely attractive price, Sony's D50 means business.
Features:
• 24 bit / 96 kHz recording in standard .WAV file format
• 4 GB Built-in Memory – records up to 6 hours @ 44.1 – 16 bit
• Two-Position Electret Condenser Microphones x-Y and Wide-Stereo Polar Patterns
• LCD Digital Peak Metering
• Memory Stick Pro-HG Duo Slot
• MP3 Playback
• Digital Pitch Control
• SPDIF Digital Input and Output
• PC/MAC Compatible – File Transfer via High Speed USB
• 5 second pre-recording buffer
PCM-D50 Accessories:
• RM-PCM1 Remote Commander: $46.95
• VCT-PCM1 Tripod Stand: $69.95
• AD-PCM1 Wind Screen: $49.95
• CKL-PCMD50 Leather Carrying Case: $59.95
• XLR-1 Microphone Adapter: $499.95
The Sony PCM-D50 Digital Recorder will be available sometime in November for $599.00. Sony will officially launch the PCM-D50 this week. In the meantime, you can check the Sony Professional Website for more information on the Sony PCM-D50 Digital Recorder.