Microsoft Announces 2nd Generation Zune Digital Media Players
Microsoft has finally announced their next-generation Zune, digital media players. The new models come in three flavors: a 80 GB hard drive model with a new 3.2-inch screen, and compact 4GB/8GB Flash dealios. The big new features in all models are automatic Wi-Fi syncing with a computer automatically when your Zune is in range, and the Zune's "Pad" is now touch sensitive.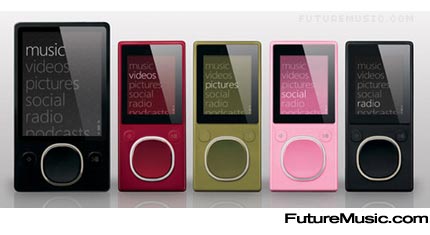 The Zunes have all gone on a major diet, with the 80GB dropping the most girth. The Zune's "sharing" attribute has matured allowing you to send videos and music, but still time out after three plays. The Zune also supports two new video codec's: h.264 and MPEG4, in addition to WMV.
80GB Zune Features:
• A brighter 3.2-inch glass screen
• Touch controls
• Wireless sync
• Zune Social, a beta online social networking Web site
• Zune Marketplace revamped store with over 3 million songs, albums, DRM-free MP3s, music videos, audio and video podcasts and more.
• Wireless Zune-to-Zune sharing – Share full-length tracks of your favorite songs, albums, playlists, pictures and even audio podcasts.
• Recorded television content to go. The Zune software will now automatically import broadcast content recorded on Windows Media Center for Windows Vista Home Premium or Ultimate, so consumers can sync them onto their Zune and hit the road
• Built-in FM radio
• Plug your Zune into your Xbox 360 and customize the soundtrack in your favorite games. You can also stream the music, pictures and videos from the Zune software on your PC to your Xbox 360 console using a wireless connection.
The second-generation Microsoft Zunes will be available in November, and set you back $249 for the 80GB hard drive model and $149/$199 for the 4GB and 8GB flash-based models respectively. The 80GB model only comes in black, the flash-based Zunes come in black, pink, green, and red. More information on the new Microsoft Zunes.