Weekend Fun: Buy George Jetson's Car For $30,000
Since electric cars and hybrids are dominating conversation around the watercooler these days (not really), we've decided on showcasing the new Aptera.
The Aptera is a three wheel electric car that looks like something George Jetson would drive around if he was earth-bound. It comes in two incarnations, an all-electric model and a hybrid (gas/electric), which is more expensive, but certainly gives you much more traveling options in terms of range.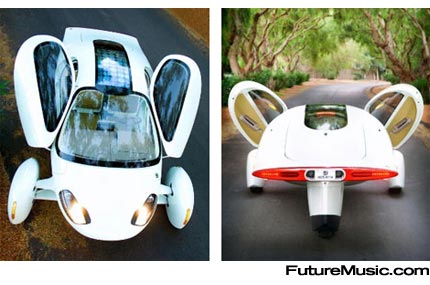 The manufacturers assert that the Aptera seats 2.5 people with room for luggage, and your jetpack. We'll leave it to your imagination to what exactly half a person is, but with an electronically-limited top speed of 95mph, who cares! Acceleration is not going to win you kudos from your peers at the drag strip, or your highway on-ramp, it takes over 10 seconds to hit 60 mph.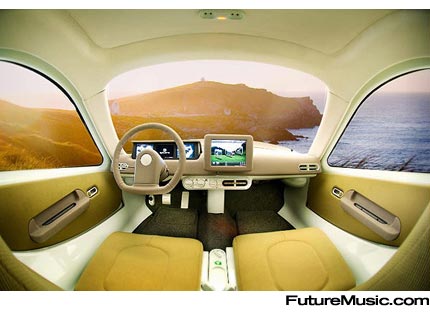 The Aptera comes nicely equipped with the types of gadgetry that you would expect from a car that looks like it should be taking to the air instead of driving along asphalt, including a large LCD screen, GPS, a rear-view camera, airbags, sound system, a RFID "Key," and a dynamic solar assisted climate control that utilizes solar panels on the roof to keep the interior at a specified temperature — very cool, if it actually works.
As we told you above the Aptera comes in two flavors, an all-electric, or a hybrid. The electric gives you a range of about 120 miles before needing a recharge via a standard 110 volt outlet, and costs $26,900. The Hybrid adds a gasoline powered generator to the electric drivetrain to extend your range, and the manufacturer claims you could theoretically receive over 300 miles per gallon, of course, all together now: your mileage may vary. The Hybrid will set you back $29,900.
Aptera plans to begin manufacturing the cars in about a year, and is now accepting refundable deposits of $500 to secure your place in line. More information on the Aptera from their excruciatingly frustrating, and ultimately painful website.