Image Line Updates Deckadance
Image-Line has updated Deckadance, their software mixing application, to version 1.14.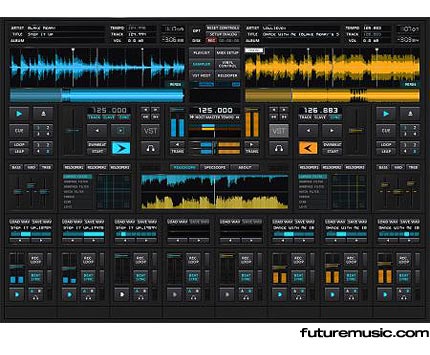 Enhancements:
• New "Hitech" skin.
• From this version Deckadance has a new edition, "Deckadance House Edition", the house edition doesn't include the vinyl tracking system.
• New overdrive processing algorithm in the monitor control section. This fix a crash produced in earlier versions
• Added input gain (preamp) control to vinyl inputs to improve the DVS system. This will fix some problems in absolute mode.
• Added equalization processing to input lines (vinyl, CDs, etc).
• Fixed some problems in the vinyl tracking system that causes incorrect reading of Torq timecode vinyls.
• Added the following keyboard shortcuts to handle the playlist: "DOWN ARROW -> Select next item","UP ARROW -> Select previous item","LEFT ARROW -> Load select item into deck A","RIGHT ARROW -> Load select item into deck B"
• New mapping template for the KDJ500 controller. The new template includes support for Bending/Scratching/Searching with the jogs, optimized control over the Loops/Leaps (with size increment/decrement), Effects (with effect selector), Cues (4 points), Sampler (play and recording), Relooper, Monitor section (mix and level), Pfl, fine Pitch (0.001 resolution), Eq and full control of Playlist browsing and loading of songs. All these functions includes leds feedback directly from DD
• Changes in the inline help to reflect the latest changes in Deckadance.
• Some internal improvements to use the computer CPU in a more efficient way. This will improve also the response of DD in slow computers.
• Minihost-> Added useful url links to Help menu.
• Minihost-> Auto-setup of all MIDI input / output device settings and audio input / output assignments with deckadance control selection notification for BCD3000 console.
• Fixed the problem with the loops in the Digital Vinyl System when the absolute mode is used.
[imp] Improvement in the Digital Vinyl System when switching between absolute and relative mode. It caused some unwanted jumps in the song.
• Fixed the problem of the scrollbar in the playlist with the Hitech skin in DD 1.14 beta release.
• Fixed the problem of the KDJ500 "jog B" interfering with the "jog A" controller in DD 1.14 beta release.
The Deckadance update is free for registered users. More information on Deckadance 1.14.