Vox Premiers amPlug – Portable Guitar Amp Series
Vox has premiered the amPlug, a compact headphone guitar amp that lets you rock out with big Vox tones, but without waking the neighbors. The amPlugs come in three distinct flavors, the AC30, based on their own vintage AC30 amp, Classic Rock, and Metal.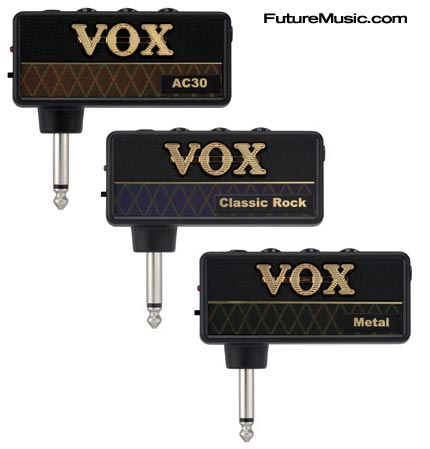 Here's Vox's Pitch:
"Jamming late at night? Don't want to wake the neighbors? Maybe you want to work out a lick with your MP3 player without taking the time to set up your amp. You want to play guitar right now. amPlug is the answer. Simply plug this palm-sized headphone guitar amp directly into your guitar, and enjoy serious guitar sounds anywhere, anytime. Even with its ultra-compact size, amPlug perfectly reproduces the complex and warm distortion that is distinctive of a vacuum tube, as well as the powerful high gain produced by a large amp stack. Using all new analog modeling technology, amPlug delivers fully-fledged amp sound that will revolutionise your guitar playing."
Vox's amPlug series simulates the circuitry of a vacuum tube amp completely in analog. With its completely analog design, great care was also taken with amPlug's gain circuitry. The "AC30" uses two natural-sounding gain stages to reproduce the distinctive AC30 tone. "Classic Rock" uses four classical gain circuits to deliver that great sound. "Metal" uses two stages of ultra-high gain plus a mid-cut circuit, giving you modern metal high-gain sound anywhere and anytime. Even the circuit response of the original amp is simulated completely.
With up to fifteen hours of battery life, and an AUX input jack so you can jam along with your CD/MP3 player, you may find that the amPlug is your guitar's newest, bestest buddy.
Why didn't they just put all three flavors into one unit?
Vox's amPlug is available now for £35 beans. More information on the Vox amPlug.