Presonus Unveils Monitor Station
PreSonus Audio Electronics has unveiled the Monitor Station mixing console, a desktop monitoring and communications system for the project recording studio.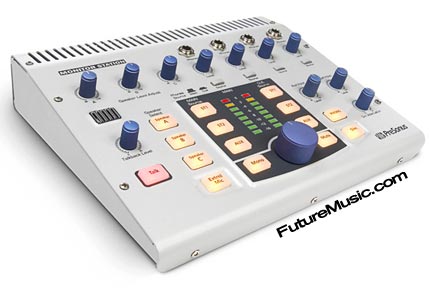 Presonus claims the Monitor Station has everything you need to control your recording environment and enhance your music creation to produce better mixes in less time. You can listen to your mixes on different speakers; with and without the subwoofer, compare your mixes to your favorite CDs and vinyl, listen in mono to check phase cancellation, use talkback to communicate to the artists during recording, and send Cue Mix to the four headphone amps and the Main Mix to your speakers.
Features:
• Main Speaker Volume control
• 3 stereo inputs (two balanced TRS, one RCA Aux/Phono)
• 3 sets of balanced TRS speaker outputs, each with level adjustment
• Talkback microphone with volume control to feed headphone and Cue output
• XLR input for external dynamic talkback microphone
• Accurate fast-acting dual 8-segment LED for metering
• 4 loud and clear headphone amplifiers with separate volume control and input selection
• Main and Cue stereo output have independent input source selection
• Dim with variable level adjustment
• Aux and Phono level adjustment
• Mute and Mono
Presonus' Monitor Station will be available sometime in October for $400. More information on the Presonus Monitor Station.