Channel D Software Updates AudioLeak To Version 2.0
Channel D Software has updated AudioLeak, their Universal Binary utility for analyzing the perceived loudness level of audio files, to version 2.0. AudioLeak quickly previews perceived playback levels of sound files without having to actually listen to the audio. It provides average RMS unweighted, A-Weighted and Peak levels, and supports many audio file formats, including lossy and lossless, of any duration and sample rate.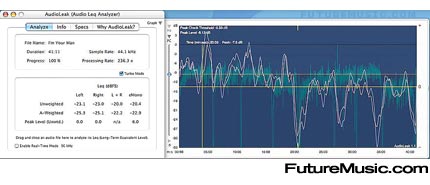 AudioLeak 2.0 is includes dozens of new features, including automatic audio file normalization based on Leq level, and the Firefly level metering that can analyze real-time input. A Professional version with additional features (Batch, Variable RMS Response, Logging, more) will be available in October.
Channel D Software's AudioLeak 2.0 costs $29.95, and is available now. AudioLeak Professional will set you back $79.95 when it bows on October 1st. A Demo of both version is available for download. More information on Channel D Software AudioLeak 2.0.