Cakewalk Announces Sonar 7
Cakewalk has announced two new upgrades to Sonar, their digital audio workstation (DAW), Sonar 7 Producer Edition and Sonar 7 Studio Edition.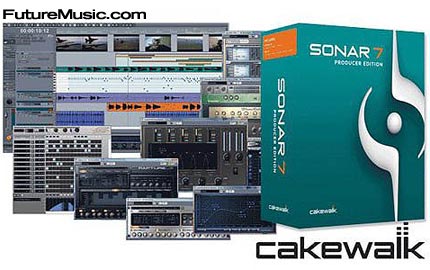 Sonar 7 Producer Edition extends its offering of creative tools with an open and customizable environment, high-quality instruments and effects, and flexible mixing and delivery options. These new developments include user customization for MIDI with Smart MIDI Tools, the introduction of a powerful Step Sequencer, true Linear Phase Mastering Plug-ins, internal sidechaining, delay compensation for external hardware through an External Insert plug-in, pitch to MIDI functionality with Roland V-Vocal 1.5, integrated CD burning, and numerous workflow and delivery enhancements throughout the application.
Features:
• Integrated Step Sequencer view
• Smart MIDI Tools
• Real-time Drag-Quantize allows selected notes and events to be quickly aligned with snap settings
• Multilane controller editing in Piano Roll view; controller data can be moved/copied across lanes; multiple controls can be viewed/edited per lane to economize screen real estate
• MIDI display features including MIDI Magnifier, MIDI Meters, and Velocity Colorizer
• Enhanced MIDI editing with functions for splitting, gluing, and muting notes
• More ACT (Active Controller Technology) presets for popular hardware
• New instruments: Z3TA+ 1.5 waveshaping synthesizer, Dimension LE (featuring Garritan Pocket Orchestra), Rapture LE, and DropZone Sample player/synth; Over 1000 instruments sounds
• Roland V-Vocal 1.5, now with Pitch to MIDI conversion
• LP-64 Multiband linear phase mastering compressor/limiter with AutoQ functionality
• LP-64 EQ linear phase mastering EQ with 20-point control curve
• Internal sidechaining for Sonitus:fx Compressor, Sonitus:fx Gate, VC-64 Vintage Channel, and 3rd party VST plug-ins with sidechain (multi-input) capability
• External Insert Plug-in — external hardware input with automatic delay compensation
• Boost 11 Peak Limiter
• Dim Solo keeps tracks in context by reducing volume of unsoloed tracks by 6, 12, or 18 dB instead of muting
• Drag & drop EQ settings across channels in the console view
• Shortcuts for assigning a series of audio inputs, and routing selected tracks/busses to the same input/output/main
• Original SMPTE time stamps now stored with clips with easy revert to original time stamp
• Right-click at cursor to Import audio/MIDI data
• Wave-64 support provides capabilities to record large scale (2 GB+) projects
• High bandwidth multi-track recording optimizations
• New file format import/export options including Sony Wave-64, AIF, CAF, FLAC, Sound Designer II
• Integrated Audio CD ripping and burning
• Cakewalk Publisher 2.0 for uploading and presenting music online
• 64-bit mix engine; first true 64-bit end-to-end signal path
• Customizable user interface: put favorite features right at your fingertips
• AudioSnap suite of audio timing tools featuring multiple time stretching algorithms including iZotope Radius, percussion mode, and groove clip
• Active Controller Technology (ACT): dynamically maps effect, mix, and instrument parameters to any MIDI controller or hardware control surface, automatically remaps parameters to whatever view has focus
• Roland V-Vocal VariPhrase technology for perfection of vocal tracks through exceptional audio stretching, pitch correction, and dynamics, phrasing, and vibrato — now updated with pitch to MIDI conversion
• Perfect Space Convolution Reverb powered by Voxengo
• VC-64 Vintage Channel powered by Kjaerhus—now updated with sidechaining
• SurroundBridge—easily use stereo effects in a surround environment
• BitBridge enables 32-bit VST effects and instruments to run smoothly in Sonar when running in an x64 (64-bit) environment
• POW-r Dithering
• iZotope Radius Time Stretching
• MPEX 3 Time Scaling
• Bus & Synth Waveform Preview
• Clip-Based Effects and Editing
• Crash Recovery safeguards projects against faulty plug-ins and other sources of crashes
Integrated Step Sequencer
Sonar 7's new dedicated Step Sequencer features up to 16 steps per beat with 64 beats per pattern; support for odd time signatures; a powerful "Fit Pattern to Quarters" control that fits patterns into lengths of any number of quarter notes for creation of polyrhythmic parts (5 against 4 rhythms, hemiolas, septuplets, etc.); control velocity offset and scale values in an entire row all at once; MIDI controller automation drawing; step ties; monophonic/polyphonic toggle switch; global portamento toggle switch with time control; swing and articulation controls. The sequencer's integration with advanced Drum Mapping and MIDI routing provides capabilities for simultaneously triggering sounds from different instruments from the same step sequencer—perfect for working with complex or layered drum kit setups with sounds sourced from different instruments.
Smart MIDI Tools
Smart MIDI Tools enhances Sonar's MIDI editing by providing users with a powerful and customizable workflow innovation. Users are given three tools which can each be configured to perform multiple operations to suit their editing style. Out of the box, Sonar provides three preconfigured Smart MIDI Tools; the default tool can be used to draw, select, erase, and edit notes and controllers. Users can create their own Smart MIDI Tool presets by selecting from 20 different mouse actions and assigning them to edit functions such as slip-editing and transposition, and new MIDI editing features including split, glue, event mute, and drag quantize. Users are also given control over specific edit behavior: change the way draw and erase works, it's all user-definable. Custom Smart MIDI Tool assignments can be saved as presets and apply to both the Piano Roll View and the Inline Piano Roll. Sonar 7 also includes presets that match MIDI operations in other popular applications such as Logic, Cubase, and Digital Performer for customers who are switching to Sonar from these applications.
New Instruments

With Cakewalk's acquisition of RGC:audio in 2005, René Ceballos joined the Cakewalk development team. New instruments for Sonar 7 include Dimension LE, DropZone, Rapture LE, and Z3TA+ 1.5. With these additions, Sonar 7 now includes well over 1000 new instrument sounds and 1 GB of sample content.

Z3TA+ 1.5 — is a Waveshaping Synthesizer. It is a analog-style synthesizer with sound shaping capabilities. The exclusive band-limited Waveshaping technology is oriented to the professional musician and sound programmer looking for uncompromised sound quality and features.

Dimension LE — is a special version of the acclaimed Dimension Pro instrument from Cakewalk. Dimension LE features over 400 sound programs, ranging from real bass, organ and electric piano samples to synth sounds and rhythmic grooves. In addition, you get the special edition of the Garritan Pocket Orchestra, expressively programmed for Dimension LE, featuring orchestral instrument libraries of strings, brass, woodwinds, keyboards, and percussion sounds. Dimension LE is powered by Cakewalk's Expression Engine providing several types of synthesis capabilities including multi-sample rendering, wavetable synthesis, waveguide synthesis, and REX playback and manipulation.

Rapture LE — this special version of the award winning Rapture synthesizer from Cakewalk makes its debut in Sonar 7. It includes over 200 programs and hundreds of oscillator shapes. Capable of producing rich, hypnotic, and rhythmic basses, leads, and pads, Rapture LE is perfect for performing and designing the modern synthesized sounds igniting today's pop, dance, and electronic music.

DropZone — is a drag & drop sampler and REX loop Editor. Just drop in a sample and the loop points and slices are visually displayed. It has a keyboard display to show sample key mapping; 300 MB of samples including pads & atmospheres, basses, pianos, drum kits, Dance & Hip Hop REX loops, and hundreds of wavetables.

Internal Plug-in Sidechaining — Leveraging Sonar's Universal Bus Architecture framework, Sonar now supports internal multi-input plug-in support with the Sonitus:fx Compressor, Sonitus:fx Gate, VC-64 Vintage Channel, and all sidechain compliant VST processors such as those available from Voxengo and Sonalksis.

LP-64 EQ linear phase mastering EQ — LP-64 EQ is a linear-phase Equalizer that employs linear-phase processing to ensure zero-phase accuracy and maintain the integrity of audio throughout the frequency spectrum. LP-64 EQ's phase accurate processing eliminates phase distortion common with parametric EQ, such as coloration, cancellations, comb filtering, muddy transients. LP-64 EQ offers flexibility in editing by offering both traditional parametric editing with graphical control points representing filter components that control frequency, gain, and Q; and a graphical curve editing mode.

LP-64 Multiband linear phase mastering compressor/limiter — LP-64 Multiband provides transparent peak limiting and volume maximization. The LP-64 Multiband employs the same linear-phase technology found in the LP-64 EQ ensuring, zero-phase accuracy at critical frequency crossover points. This provides clean, clear non-smeared control over isolated bands for volume maximization or attenuation/limiting. The LP-64 Multiband operation modes are user selectable or PDR (Program Dependent Release) that automatically minimizes pumping (audible fluctuations of the volume) and maximizes loudness. Also, an 'Auto-Q' feature automatically adjusts the linear-phase filters to maintain ideal overlap.

Boost 11 Peak Limiter — The Boost 11 Peak Limiter provides transparent peak limiting and volume maximization without coloring the sound of the source material. Boost 11 employs a "look-ahead" limiter algorithm to prevent output clipping and PDR (Program Dependent Release) to minimize pumping (fluctuations of the volume) and maximize the loudness.

External Hardware Inserts — Sonar now provides seamless integration of external hardware effect processors and MIDI instruments with latencies automatically measured and compensated through Sonar's plug-in delay compensation (PDC). When using External Inserts, users have control over send and receive port assignments, send phase invert, as well as automatable send and return gain trim (+/-24dB). All parameters can be saved in presets. With Sonar's new Real-time Bounce, Export and Freeze options, you can use External Inserts in your projects through all phases of production. Freeze tracks that use External Inserts at any time to permanently capture the processing of your favorite outboard gear and instruments—perfect for collaboration with other studios that may not have your particular outboard hardware.

High bandwidth recording and large project optimizations — Users can now record longer projects with support for 2+ GB Sony Wave-64 files. Sonar has also been optimized for high-bandwidth multitrack recording.

Cakewalk Publisher 2.0 — Integrated Cakewalk Publisher presents an innovative new tool to publish and present music online. Cakewalk Publisher provides a fast and easy way to create a customized, online, streaming music player and playlists that can then be directly uploaded from Sonar to band websites, and hosted on MySpace and other Internet sites.

File Recovery Mode — Sonar 7 significantly enhances the "safe mode" functionality first introduced in Sonar 5. Now known as File Recovery Mode, this activates a more aggressive data recovery mechanism when a damaged project file is detected.

Integrated CD Ripping and Burning — Now you can import audio from CD directly into a Sonar project and burn multiple tracks to audio CDs right from within the application.

New file format import/export options — Users can now import/export Sony Wave-64, AIF, CAF, FLAC, SD2 (Sound Designer II). Users can also now right-click at cursor to import audio/MIDI data.

Sonar 7 Studio Edition features all the music creation tools found in Sonar 7 Producer Edition but without: LP-64 Linear Phase Equalizer, LP-64 Multiband Compressor, VC-64 Vintage Channel, Roland V-Vocal VariPhrase technology, Z3TA+, PSYN II subtractive synth, Pentagon I analog synth, RXP groove instrument, Perfect Space Convolution Reverb, surround mixing, Sonitus Surround Compressor, POW-r Dithering, MPEX-3 Time Stretching. In addition, AudioSnap in Sonar 7 Studio Edition is limited to one track at a time processing.

Cakewalk's Sonar 7 Producer and Studio Versions will be in stores shortly. No official pricing has been announced. More information on Cakewalk Sonar 7.