Expert Sleepers Releases Windows Version Of Meringue Delay Plug-In
Expert Sleepers has released a Windows version of Meringue 2.0.2, a specialized delay VST effect. Meringue runs alternately forwards and backwards, rather than continually forwards creating dynamic and unusual effects.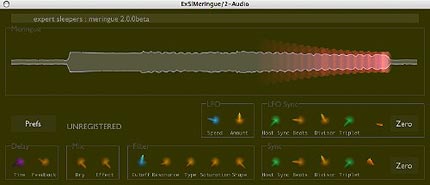 Expert Sleepers' Meringue is now available as a VST plug-in for Windows and as a Audio Unit/VST (both Universal Binary) for Mac OS X, and costs $19. More information on Expert Sleepers Meringue for Windows.