Verizon Punishes Marley Estate After Chris Blackwell's Tongue Lashing
Hey Kids, Remember, "The Less You Say, The Better Off You Are." Now Repeat…
After the Marley estate cried foul, Verizon agree to take down the majority of songs from the reggae legend that they negotiated to offer as ringtones. Verizon had legally inked a deal with Universal Music, who controls the later day catalog of Bob Marley tracks, but acquiesced into removing the songs because the Marley family felt that the manner in which they were marketing the ringtones amounted to an "endorsement deal."
The Marley will not file a lawsuit against Verizon for trademark infringement because the concern had ceded to its demands and taken most of the 44 ring tones by the singer off the Verizon Wireless Web site. Sixteen ring tones remained on the site, songs from early in Marley's career that are owned by companies other than Universal.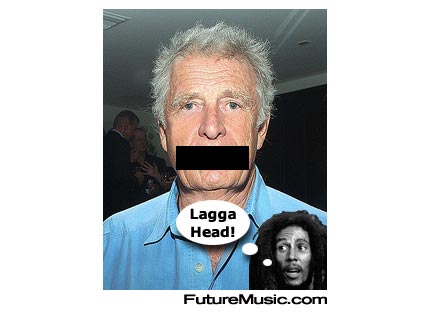 However, Verizon abruptly changed their mind after Chris Blackwell speaking on behalf of the Marley estate stupidly bashed Verizon in public statement. "[I'm] infuriated that Verizon would go around the estate and initiate partnership with Universal" and that it was "disturbing that these companies refuse to give the musicians the respect they deserve."
Verizon, taken back by Blackwell's statement decided to give Blackwell and the Marley family the finger. In a major reversal, Verizon stated would reinstate all Bob Marley ringtones, ringbacks and pictures immediately, only days after taking them down.
Chris Blackwell, founder of Island Records, countered by stating that the family will proceed with legal action. "We are filing the lawsuit because they went back on their word," he said in a statement. "Verizon said they would take it down and they did. Now they say they are putting it back up, we are filing 100 percent."
However, Blackwell doesn't seem to be standing on firm legal ground according to industry watchers, and he should have quietly rejoiced from Verizon's initial conciliatory action.
"We are disappointed that the management of the Marley Estate has chosen to take such an extreme and meritless position that a customary promotional campaign highlighting the availability of Marley mastertones somehow constitutes an 'endorsement' of Verizon overall," Universal said in statement.
Universal Music Group, parent of Island Records, is also peeved at Blackwell's retoric and put out there own statement: "We will now make Bob Marley's music available as mastertones to all phone carriers."
The Future: Although Blackwell was instrumental to Marley's success, he should step down from this formidable miscalculation. Remember kids, "The Less You Say, The Better Off You Are."