Neumann Announces 40th Anniversary U 87 Special Edition Microphone
For the 40th anniversary of the ubiquitous U 87 microphone, Neumannhas released an exclusive U 87 Anniversary Set. This special edition, in a specialized case, is offered with an exclusively designed pop screen.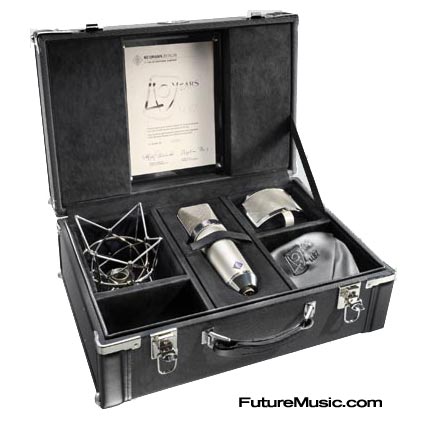 The set also contains a dust cover embroidered with the anniversary logo, and a pair of white gloves for handling this valuable equipment. A signed and framed certificate of authenticity with individual serial number completes each original set. The U 87 is equipped with a large dual-diaphragm capsule with three directional patterns: omnidirectional, cardioid and figure-8. These are selectable with a switch below the headgrille. A 10 dB attenuation switch is located on the rear. It enables the microphone to handle sound pressure levels up to 127 dB without distortion. Furthermore, the low frequency response can be reduced to compensate for proximity effect.
Features:
• Attractive combination of polished nickel parts with the traditional Neumann matte nickel
• Fine and robust, unique retro-style case
• Exclusively designed PS 87 pop screen
• Polished EA 87 elastic suspension
• Dust cover embroidered with the 40 Years Anniversary logo
• Signed certifi cate of authenticity with individual serial number
• Variable large diaphragm microphone
• Pressure-gradient transducer with double membrane capsule
• The studio microphone classic
• Three directional characteristics: omni, cardioid, figure-8
• Switchable low frequency roll-off
• Switchable 10 dB pre-attenuation
No pricing or availability have been announced. More information on the Neumann 40th Anniversary U 87 Special Edition Microphone.