Sugar Bytes Unleashes Unique LE
Sugar Bytes has released Unique LE, an entry-level version of their famed Unique virtual synthesizer, that delivers the same ultra analog sound as its big brother.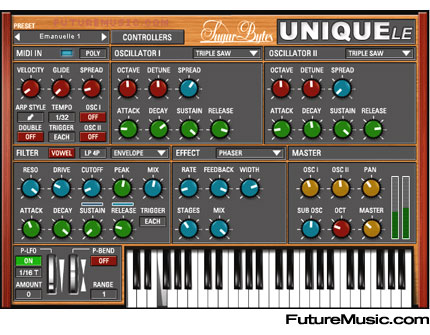 Features:
• 300 Presets
• 2 multi-mode oscillators with individual amp envelopes
• Versatile filter: 5 modes x 5 mods x 9 vowels
• Arpeggiator per osc with dual-voice mode
• 8 voice polyphony
• Internal control sources: LFO, Envelope and Step Sequencer
• Sub sine oscillator
• Super versatile retrigger system for modulators
• Advanced all analog style circuitry with a minimal CPU load
• Oscillators: Sawtooth, Triple Saw, Pulse, Triple FM, Noise (with tonal filter), Sub Sine
• Filters: 2 Pole Highpass, 2/4 Pole Bandpass, 4 Pole Lowpass, Comb Filter
• Each Filter can operate in Vowel Mode and contains five modulation engines to choose from: Envelope, LFO, 4 Step Sequencer, Pitchbend, Modwheel
• Effects: Reverb, Filter Delay, Phaser, Lo-Fi, Multimode Filter
• Controllers — Internal: LFO, Envelope, 8 Step Sequencer — External: MIDI Learn, Host Automation, Modwheel, Pitchbend, Easy Assignment via Rightclick on any control
• Special Features: Unisono/Polyphonic, Polyphonic Glide, Duophonic Arpeggiator per Osc, Vowel Filter Mode, Multi Effect, Many Trigger Modes for Modulators
Unique LE contains the same analog engine as Unique with with some reduced features. Presets can be exchanged between the full and the LE version.
Sugar Bytes' Unique LE costs only €69 and is available for Windows and Mac OS X in VST and AU formats. A Demo version is available for download. More information on Sugar Bytes Unique LE.