Native Instruments Updates Kontakt To Version 3
Native Instruments has updated Kontakt, their software sampler, to version 3. Kontakt's
high-resolution audio engine, comprehensive sound shaping capabilities, KSP script programming, and universal sample format compatibility, has established Kontakt as one of the industry leaders in sampling technology. The new version is centered around a highly sophisticated next generation instrument library while adding a wide range of new functions and enhancements in all areas of the software.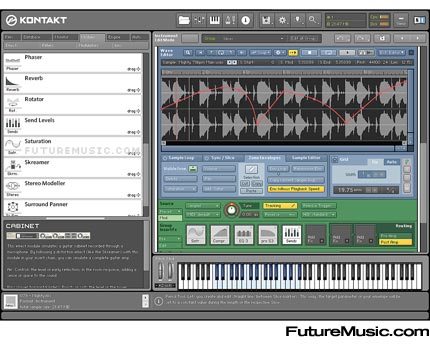 The new instrument library in Kontakt 3 contains over 1.000 expressive and ready-to-play instruments. The 33 GB library consists of six themed collections titled Band, Orchestral, Synth, Urban Beats, Vintage and World. Each instrument in the six collections is outfitted with a specialized Performance View panel that puts all essential sound parameters at the user's fingertips for quick and convenient control. Drum kits even include their own programmable step sequencer, world instruments offer sophisticated tuning scale options, synthesizers come with arpeggiators and detailed voicing controls.
This advanced functionality is based on Kontakt's KSP scripting technology. The new Zone
Envelopes are directly applied on the waveform, and add modulation features. A new sample editor now also enables direct editing of waveforms for audio trimming, cutting and similar tasks directly within Kontakt 3. Handling of loops and musical phrases greatly benefits from an improved wave editor, which offers slice detection, a flexible beat grid and the option to export sliced loops as MIDI files.
Native Instruments' Kontakt 3 will be available in October for $449 / €399. An update for owners of Kontakt 2 will be offered at $149 / €129. More information on Native Instruments Kontakt 3.