Native Instruments' Updates Guitar Rig To Version 3
Native Instruments has updated Guitar Rig, the next generation of its digital guitar effects rack, to version 3. The third version expands on nearly every aspect of Guitar Rig and now offers more amps and effects, powerful new live features, a completely reworked tone library complete with improved preset handling, and a redesigned Rig Kontrol pedal board with optimized control and audio interface functionality. Both a "Kontrol Edition" with foot pedal and a software-only "Software Edition" of Guitar Rig 3 will be available.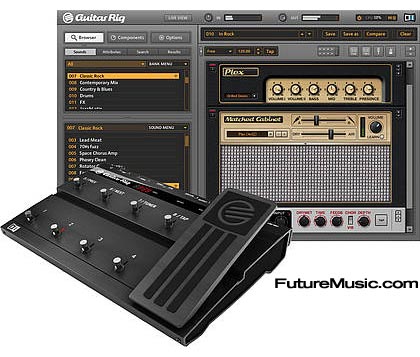 Guitar Rig 3 offers four additional emulations of highly sought-after original guitar amplifiers, all based on Native Instruments' Dynamic Tube Response technology to provide the unique dynamics and full tonal charisma of tube amplification. New amps include the "Ultraschall", the "Tweed Delight", the "Citrus" and the "Hi-White". A new "Matched Cabinet" module now also provides a carefully matched combination of cabinet and microphones for every amplifier in Guitar Rig 3, and is especially straightforward and effective to set up and tweak.
The effects of Guitar Rig 3 has also been further expanded with six new units, including an analog-modeled emulation of a legendary vintage tape delay. This outfits Guitar Rig 3 with 12 true-to-life amps as well as 44 stomp boxes and effects.
The redesigned Rig Kontrol foot pedal included in the "Kontrol Edition" of Guitar Rig 3 offers immediate and intuitive control of the software at any time. Two additional buttons, integrated signal level indicators and concise button labeling all make sure that Guitar Rig can be controlled hands-free and away from the computer screen. The integrated audio interface has also been upgraded with studio-grade Cirrus Logic converters that provide pristine audio quality for all applications.
To provide guitarists and producers with a rich sonic resource right from the start, Guitar Rig 3 includes a new preset collection with more than 300 guitar tones that focus on amp sounds, spanning a wide range of musical eras and styles. Preset handling is more convenient due to the redesigned browser with improved search functions, new "bank categories" and a new snapshot feature that allows guitarists to quickly switch between multiple variations of a tone.
For guitarists who take Guitar Rig on stage or to the rehearsal room, the new version also introduces a Live View feature that displays a large-scale full-screen view of the most vital parameters for live use. Preset lists, button and pedal assignments and tuner functions can now all be monitored through the Live View at a glance.
Native Instruments Guitar Rig 3 will be available in October in two versions that are both fully compatible with KORE. The "Kontrol Edition" will cost $559 / €499, and the "Software
Edition" is $339 / €299. More information on Native Instruments Guitar Rig 3.