Apple Announces Logic Studio
So we were a week off in our prediction, but that's certainly close enough for government work…
Apple has released Logic Studio, a suite of professional tools for creating, producing and performing music for $499. Logic Studio features Logic Pro 8, a major upgrade that now contains a one-screen interface, and introduces MainStage, an innovative new live performance application.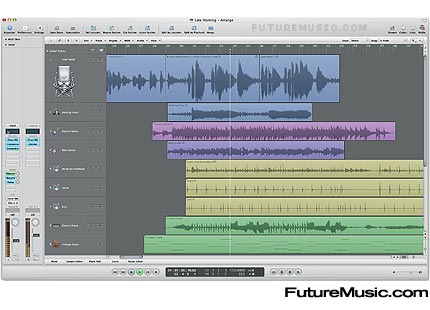 The Logic Studio package also includes Soundtrack Pro 2, Apple's professional audio post production software, Studio Instruments, made up of 40 pristine quality instruments; Studio Effects, with 80 professional effect plug-ins; a vast Studio Sound Library; and a powerful set of production utilities.
Logic Pro 8 now sports an intuitive single-window interface for instant access to sample accurate editing directly in the Arrange window, and new snap-to-transient action. New audio production tools such as Quick Swipe Comping and dynamic channel strip creation speed up common tasks. Logic Pro 8 also includes end-to-end surround production capabilities with innovative surround panning controls, multichannel tracks and busses, and support for True Surround software instruments and effects.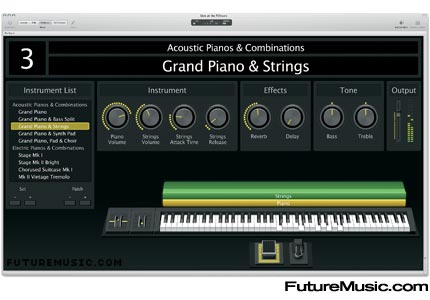 MainStage looks to compete with current live performance software offerings by turning the Mac into a powerful live rig. Screen controls link software plug-ins to hardware knobs, faders and buttons, so musicians can use their favorite gear while performing live. An easy-to-read interactive display, designed for distant viewing in dim light, shows exactly the information needed on stage. Professional templates simplify set-up giving musicians more time to explore and create their own unique sounds.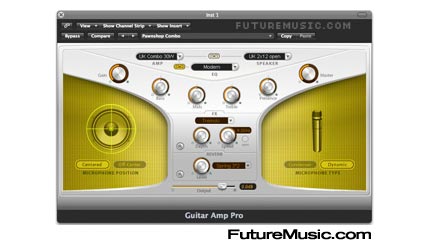 Guitar Amp Pro features 11 amp models, 15 speaker cabinets, microphone controls, and an effects section for constructing the perfect guitar tone. The Bass Amp offers nine different amplifier models and separate frequency and gain controls to craft warm and punchy electric bass sounds. And you can access over 200 brand-new guitar and bass channel strip settings made from scratch by world-famous sound designers. Guitar Amp Pro offers a wide range of legendary guitar amplifier sounds and a variety of different speaker cabinets, which can be freely modified and combined. Effects such as vibrato, tremolo, and spring reverb faithfully model the hardware effects found in classic amps. Build your ideal amp and speaker combos and save them as plug-in settings for use in Logic Pro and MainStage. Guitar Amp Pro allows you to use the amp, speaker, or microphone section independently. Fatten up your synth line with an overdriven UK 30W combo amp, or get creative with vocals by running them through a 1×10 speaker cabinet.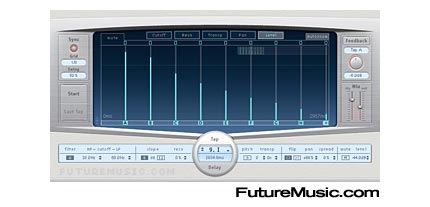 The new Delay Designer allows you to explore creative delay effects in stereo or full surround with a new multi-tap delay plug-in. An innovative interface featuring filter, pan, and pitch controls for each tap allow you to generate morphing delay effects, and a multimode resonant filter provides filtering on specific frequency ranges for even more interesting delay sounds. The new swing-time delay algorithm then places everything in the groove. Apple's True Surround processing includes dedicated spatial controls that let you give each tap its own pan position in the surround field.
Soundtrack Pro 2 is the musician's bridge to sound for picture with professional editing tools and seamless film and video integration that simplifies every aspect of the audio post production process. Musicians can compose their score in Logic Pro 8 then use Soundtrack Pro 2 to edit dialog, design sound effects and complete the mix in cinematic sound.
Studio Instruments with 40 instrument plug-ins enable musicians to access and play almost any sound imaginable, including enhanced versions of Ultrabeat, Sculpture and ES2 synthesizers, and the EXS24 sampler.
Logic Studio gives musicians a vast Studio Sound Library, featuring content from the five Jam Pack collections and Final Cut Studio 2, for a total of 18,000 Apple Loops, 1,300 EXS instruments and 5,000 sound effects that span a huge variety of genres and styles. Production utilities include WaveBurner for CD mastering, Compressor 3 for surround encoding, an Apple Loops utility and a new Impulse Response utility for capturing the acoustics of real performance spaces.
Apple Logic Studio is now available for $499 through the Apple Store, Apple's retail stores and Apple Authorized Resellers. It is compatible with 1.25GHz or faster G4 Mac computers, but PowerPC G5, Intel Core Duo, or Intel Xeon processors with at least 2GB of RAM are recommended. Registered Logic Pro 7 users can upgrade to Logic Studio for $199. Customers who purchased Logic Pro 7 on or after August 1, 2007 are eligible for a free upgrade. More information on Apple Logic Studio.