Odo Synths Releases Double Six – Virtual FM Synth For Windows
Odo Synths has released Double Six, a 6-operator FM synth with 32 DX7 algorithms and 16 4-operator algorithms. The Double Six, a VST Instrument for Windows, has all the routings from the DX7 synthesizer but with the increased power of 8 stage envelopes.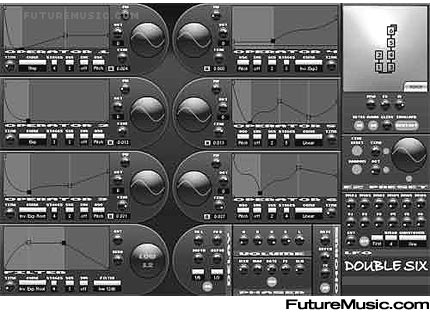 Features:
• Every operator has his own envelope. You can choose between 1 and 8 stages and set the sustain point from 1 to 7 or even off
• There are 14 different curves for the envelopes
• You can disable the envelope to save some CPU cycles, and all envelopes have a time knob
• The operators can be disabled/Fixed or pitched and have a octave range from -6 to 3, fine tune and pulse width
• There are five different waveforms for the operators: Sine/Saw/Ramp/Triangle/Pulse
• The filter has the same envelope and there are five different filter types lowpass 12db/lowpass 24db/lowpass db32/hipass/band pass
• The EZ preset allows you to make sounds quickly
• You can reset all the finetunes with a hit on a button or change all waveforms, set all the octaves the same and the times of the envelopes
• Phase modulation depth control and a feedback control
• Master and a volume envelopes
• One BPM LFO for PMD operator 1 to 6, pitch 1 to 6 and cutoff.
• Effects: chorus, stereo delay, phaser
• 128 presets + 32 made by Cuppa
Odo Synths' Double Six is called: "Donationware" — The knobs are disabled until a donation is made. Anyone who donates will not only get the knobs to turn, but will also be entitled to an "XL version." More information on Odo Synths Double Six.