Apogee Announces Duet – Two Channel FireWire Audio Interface For Macs
Apogee Electronics has announced Duet, a FireWire audio interface designed specifically for Macs. Duet is the first two-channel audio interface with control functions built directly into Apple's Logic Pro, Soundtrack Pro and GarageBand software.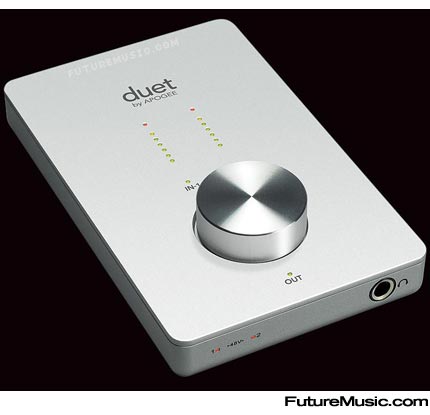 Duet's inputs and outputs feature two channels of Apogee's A/D and D/A conversion. The inputs offer two digitally controlled microphone preamps with 75 dB of gain and two unbalanced high impedance instrument inputs.  The two channels of output are available via the 1/4″ powered speaker connections and studio quality headphone jack.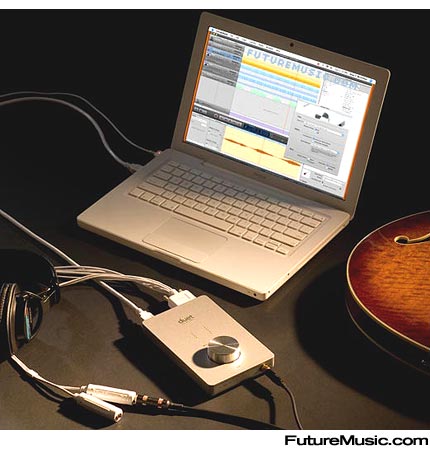 Duet is designed for ease of use and portability with a small footprint and its bus-powered FireWire connection. Duet's multi-function controller knob can select the input or output source and set gain or level.  Duet is also capable of controlling MIDI devices with a simple setting in Apogee's Maestro software application.
Features:
• Two channels of professional-quality 24-bit/96kHz audio input and output
• Two balanced XLR inputs, with selectable 48V phantom power on each input
• Two unbalanced high impedance instrument inputs
• One high-level stereo headphone output
• Two unbalanced -10 dBV line outputs for powered speakers
• Multi-function controller knob for volume and input gain control and assignable MIDI control
• Multi-segment LED meters to display input or output levels
• FireWire 400, compatible with Mac OS X Core Audio
• Integration and control with GarageBand, Logic Pro, Logic Express and Final Cut Studio (Soundtrack Pro)
• Compatible with any Core Audio-compliant audio application
• Apogee's Maestro software for advanced control and low latency mixing
Apogee's Duet requires a Mac G4 1GHz or faster, G5 or Intel CPU with at least 1 GB of memory a FireWire 400 port and Mac OS 10.4.10 or greater. It will be available sometime this month for $495. More information on Apogee Duet.