Apple Releases Second Generation iPod nano
Apple has introduced the all new iPod nano, which adds video playback, a new user interface with Cover Flow, a bigger screen with 320×240 resolution, and a squat new design.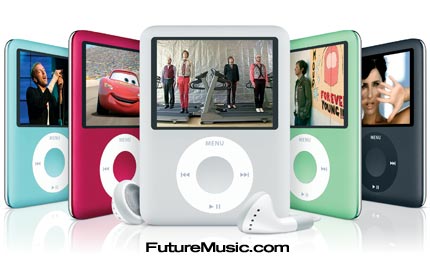 The iPod nano comes pre-loaded with three games, iQuiz, Vortex and Klondike. iQuiz is an entertainment trivia game; Vortex is a fast-paced 360 degree brick-bashing game, and Klondike is the popular solitaire card game. Additional games will be available for iPod nano later this month for download from the iTunes Store, including Sudoku, Tetris and Ms. PAC-MAN. This is a major announcement as Apple has officially entered the handheld gaming market!
Apple claims the iPod nano delivers up to 24 hours of audio playback or five hours of video playback on a single charge, and is encased in anodized aluminum / polished stainless steel. It comes in five new colors: silver, black, blue, green and a (PRODUCT) RED special edition. Apple also claims the new display is 65 percent brighter than the previous generation.
iPod nano also features an enhanced user interface that shows off album artwork and photos with their Cover Flow technology.
The Apple 4GB iPod nano is available in silver for $149, and the 8GB model is available in silver, black, blue, green and a (PRODUCT) RED special edition for $199. Both models are available worldwide now via the Apple Store, Apple's retail stores and Authorized Resellers. More information on the Apple nano 2.0.