Allen & Heath Announce ZED USB Mixers
Allen & Heath has launched a new range of small format, USB-equipped mixers for live performance, recording, and production.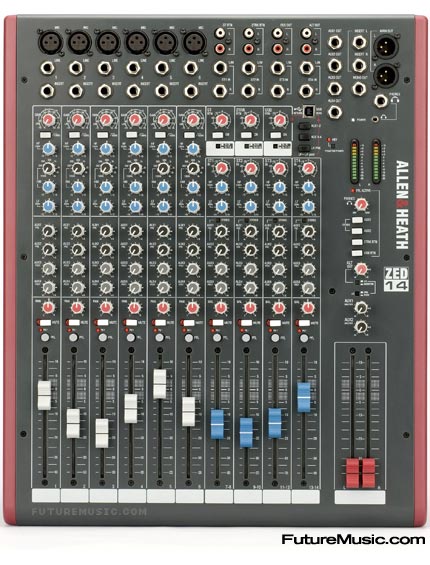 The first mixer to appear in the range is the ZED-14 stereo mixer, which provides 13 independent sources to the mix; 10 independent outputs; 2 pre-fade and 2 post-fade aux sends; a USB send and return for PC or Mac recording, playback and effects; a unique dual stereo input capability; and advanced monitoring facilities.
The ZED-14 has 6 mono channels with a responsive 3-band, swept mid-channel EQ, and 4 stereo channels with a 2-band EQ, in 100mm faders. In addition to the twin TRS jack inputs, flexible dual input options include Stereo RTN on RCA, 2TRK on RCA, and USB interface are provided to enable the engineer to control and route any source.
The ZED-14 features a high performance preamp and the Duo PreTM is a padless preamp, which uses a two stage design with carefully controlled amounts of gain in each stage, offering lots of headroom.
The DuoPre is a quality microphone circuit and an optimized line input circuit, rather than one pre-amp handling both mic and line signals. A&H claims that it has a massive 69dB of gain range, which means the low noise and controllable XLR input will handle just about anything you throw at it.
Comprehensive foldback is provided by 2 pre-fade sends, and foldback mixes can be checked in the headphones and local monitors by using the monitor section controls which include as its sources, the channel PFLs, the 2TRK and USB returns, plus the main LR mix.
The Allen & Heath ZED-14 is now available for £299. Additional 4 bus ZED mixers will be unveiled shortly. More information on the Allen & Heath ZED-14.