VertexDSP Updates MultiInspector To Version 2.0
VertexDSP has updated MultiInspector to version 2.0. MultiInspector extends the usage of spectrum analyzers especially in multitrack environments by providing an easy way for simultaneous spectral analysis of several audio signals.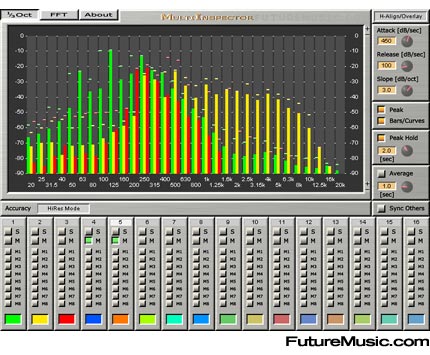 The first instance of MultiInspector behaves like a standard spectral analyzer. Additional instances automatically send their spectral analysis result to all other instances of MultiInspector. By default, every editor window of MultiInspector shows the same content, but there are numerous options for customizing the display content so that different views of the audio signals can be achieved. After opening all necessary plug-in instances it is sufficient to leave just the editor windows open you really need.
Enhancements:
MultiInspector now incorporates an FFT analysis mode with the following features:
• FFT sizes from 512 to 16384 samples.
• Several window options:
• Rectangular
• Hann
• Hamming
• Blackman
• Blackman-Harris
• Flat Top
Instant display of the FFT result or smooth display according to the Attack and Release settings.
Switchable semi-transparent display of the curves for easy detection of overlapping frequency ranges.
• The 3 already available display modes (H-Align, V-Align, V-Space) from the 31 band third octave analyzer are also usable for the FFT mode.
• The visible frequency range can be zoomed with the buttons at the bottom of the spectrum display.
New button Sync Others:
• Using this button, all other instances can be switched to the same mode (Third Octave or FFT) as the current instance. Useful for reducing the CPU load when many instances are opened.
• The Slope knob now has an additional default value of zero.
Bug Fixes:
• Negative slope values caused the display of a constant level in third octave mode.
• Keyboard focus of the host is now retained after clicking inside the editor window (Mac only).
• Compatibility issues with systems running Mac OS X 10.3.
VertexDSP's MultiInspector for Mac VST/AU and Windows VST is a free upgrade for registered users. More information on VertexDSP MultiInspector.