Native Instruments Updates Traktor Scratch To Version 1.1
Native Instruments has just updated Traktor Scratch to version 1.1, their digital DJ system. The free update provides additional functionality and a wide range of further refinements to various areas of the software, resulting in increased creative potential and optimized
handling of the system.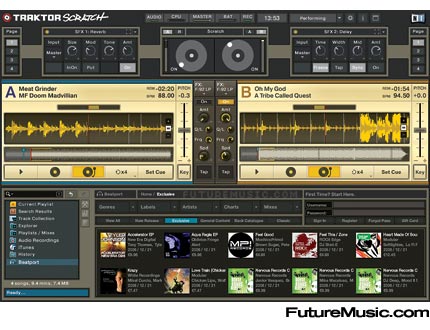 The performance effects section in Traktor Scratch now provides both insert and send modes, while the filter selection includes an additional model with several filter modes. Managing music collections is more efficient due to an optimized track database with increased performance
and new playlist features.
Traktor Scratch 1.1 also brings several new and exclusive Beatport features, support for the upcoming 7″ control records, a software-based input throughput function, and a wide range of performance optimizations and fixes.
Native Instruments' Traktor Scratch 1.1 update for Windows and Mac OS X is now available as a free download for registered Traktor Scratch users via the NI website. More information on the Native Instruments Traktor Scratch 1.1 update.