Digidesign Releases Structure LE & Structure Free Samplers
Digidesign has released two varients of Structure, their sampler workstation for Pro Tools, Structure LE and Structure Free.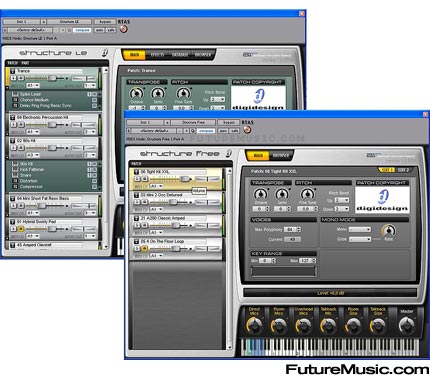 The Digidesign Advanced Instrument Research (A.I.R.) has developed a "Lite" version of Structure, dubbed LE, which provides many of the same features as its big brother for a fraction of the price, while Structure Free offers a great introduction to Structure without paying any price.
Structure LE doesn't include the multifaceted details of sample mapping and in-depth editing, but it does feature the advanced multitimbral sound engine, and comes packaged with a 3 GB sound library from A.I.R. to get you started — though it also plays nice with native Structure samples and your unencrypted sound libraries.
Structure Free provides some of the key features of its big brother, Structure, and 885 MB of sounds from A.I.R., and like its big brothers, it supports native Structure samples and unencrypted sound libraries.
Digidesign's Structure LE costs $149, and Structure Free, is, well you guessed right…free! Both are available now for download from Digi's site. More information on Digidesign's Structure LE and Structure Free.