PreSonus Announces MegaStudio Artist Hardware/Software Package
PreSonus has released of MegaStudio Artist, a new package that complements their Producer package, which launched a couple of weeks ago. MegaStudio Artist is a complete audio and video production studio including the FireBox 6×8 firewire recording interface.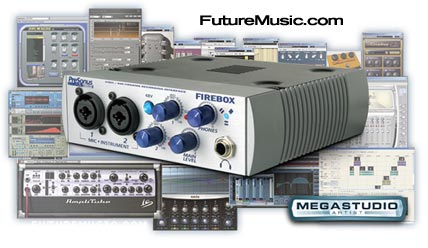 PreSonus claims that MegaStudio Artist gives you everything you need to record your music, create your videos and distribute and sell your music worldwide. Included with the MegaStudio Artist are more than four hours of tutorial videos showing you step-by-step how to produce professional-quality recordings and videos taking the mystery out of music and video production.
MegaStudio Artist features the PreSonus FireBox FireWire recording interface, more than $2,000 worth of music and video production software, 5 free song uploads to iTunes from TuneCore, as well as free BroadJam.com membership and a complete "Go Pro" guide with tons of information on sharing, distributing and selling your music and videos.
Firebox 6×8 Features:
• High-Speed FireWire audio interface
• 24-bit/96k sampling rate
• 2 Class A microphone/instrument preamps
• 6 analog line outputs
• S/PDIF input/output, MIDI input/output
• Zero-latency monitoring
• Mac and Windows (XP and Vista) compatible
Included Software:
• AUDIO RECORDING & PRODUCTION: Steinberg Cubase 4 LE
• VIDEO EDITING AND PRODUCTION:Sony Vegas Movie Studio + DVD Architect
• VIRTUAL INSTRUMENTS:
— Reason Adapted
— Drumagog LE
— BFD Lite
— Ultra Analog Session
— PreSonus VI by SoniVox
— Lounge Lizard Session
— Amplitube LE
— KeytoSound
• REAL-TIME EFFECTS:
— MasterVerb
— EyeQ
— Chamberverb
— Track Plug LE
— Camel Crusher
— PitchCraft
— FuzzPlus 2
— SFX Machine
— Pluggo Jr (12 real-time effects plug-ins)
• DRUM LOOPS & SOUND EFFECTS:
— Sony 1001 Sound Effects
— Discrete Drums PreSonus Edition
— Cycling 74 loops
— Twiddly Bits
• CD BURNING: Sony CD Architect
• OTHER: House of Worship Video Toolkit from CCI Solutions
• DISTRIBUTE & SELL ON iTUNES: TuneCore.com one album upload (5 free songs) to iTunes
• SHARE AND PROMOTE: FREE BroadJam.com membership
PreSonus MegaStudio Artist will be available sometime in September; no pricing has been announced. More information on PreSonus MegaStudio Artist.