Pacemaker Portable DJ System – New Details Emerge
A couple of months ago, we told you about the Pacemaker portable DJ rig, which is still currently in development, although many more details have surfaced. The Pacemaker will rock a color display and is confirmed to have a built-in 120GB hard drive. The concern will also offer a free mix application dubbed, Pacemaker Editor. The software is a music player, music library manager, as well as a DJ mixing application with tons of effects.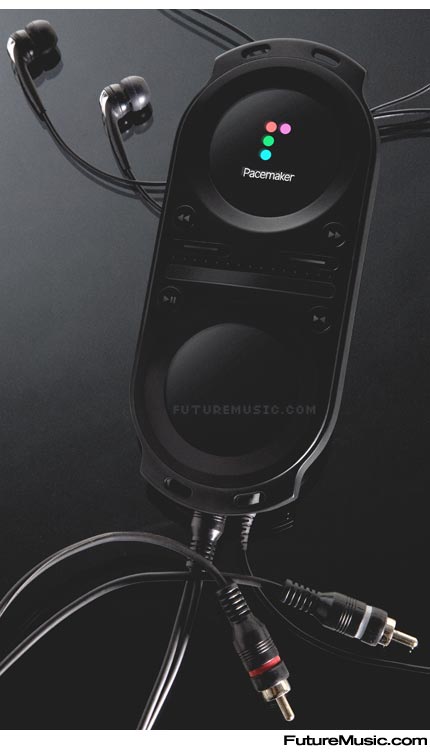 Now the bastards punters over at Digital-Lifestyles has scored an exclusive video demo of a Pacemaker prototype. The poorly filmed, blurry video, is certainly enough to fuel the hype over the innovative portable.
Part One
Part Two
We had a little chat with CEO Jonas Norberg recently about the Pacemaker…
What was your original motivation for developing the Pacemaker?
We wanted it ourselves! We wanted something that would make it possible to bring an entire DJ system, including ones music, to a party and turn the
dance floor into a mayhem!
With the [current crop of digital music players on the market] it basically mixes your music for you. We wanted it to be possible for many people to share their musical tastes, which is what DJing is all about. So we added an extra audio output, so it can be connected to any home stereo or amplifier, and then your friends can join the party!
From the information we received, the Pacemaker looks like a portable Gaming device. Was that something you were aiming for?
We thought it would be cool for anyone to be able to practice their mixing skills and be creative with their music on the go, and basically it is like
a PlayStation portable for music. Instead of buying new games for it, you buy new tracks.
Tell us briefly about the development of the Pacemaker from conception to where you're at now…
We have been working with Pacemaker since the beginning of 2005. I came up with the idea when I held a Portable Audio player, realizing that the computing power in it should be more than enough to support all necessary functions of a DJ system. After thorough investigation, we started to work on the User Interface. And we are still working on the User Interface because we want our products to be as user friendly as possible!
Pacemaker Editor
The Pacemaker Editor is a relatively new addition to the system. The software has the ability to control the two channels of audio in one window, and allows the DJ to tweak the mix simply by grabbing, sliding and overlapping the tracks. Pacemaker's philosophy is to "view the mix as a linear sequence," and then add whatever tools, parameters, truncations and layerings as you see fit.
Another attibute of the software is the real-time, non-destructive audio editing functionality. Every modification, effect, tweak, etc. is delivered instantly, but is never permanent. In addition, any mix created on the Editor can be transfered to the portable, and vice-versa.
Pacemaker Editor Features:
• Beat detection and pitch/BPM trimming
• Crossfade – cross fade transition and beat match
• Loop – duration and number of repetitions
• Filters – crush, sweep, harmonic, filter
• Audio effects – reverb, chorus, flanger, delay, echo, phaser
• EQ – – infinity to + 9 dB
• Reverse play
• Master volume
The Pacemaker Portable DJ System will set you back €520. The company is taking pre-orders now. More information on the Pacemaker Portable DJ System.