Pioneer Announces DJM-700 DJ Mixer / MIDI Controller
Pioneer announced the DJM-700, the successor to their popular DJM-600 that was getting a "little long in the tooth." Although, it does look like the 700 has several cool features, it was hard to get truly excited about this upgrade when we received the press release yesterday. First off, whoever is doing their PR needs to take a Xanax. The marketing copy was so over the top that it was laughable. Finding the hard data was an exercise in patience, and when we did find the materials, there wasn't much substance. But here's what we can tell you…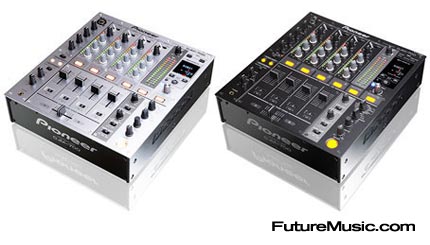 The DJM-700 is a 4-channel digital mixer and MIDI controller with 32-bit internal DSP, 13 BPM-oriented effects, a digital effects filter, and an upgraded onboard 96kHz/ 24-bit digital sampling system.
Pioneer took a page out of the Allen & Heath development handbook and finally incorporated a more sophisticated Filter effect in the 700. The marketing team incorrectly identifies this as "the World's first Effect Frequency Filter," but since their so Cracked out when they get in front of their typewriter, we'll just let it slide. The Effect Frequency Filter basically allows you to add a filter effect to 1) just the wet effects, 2) the output of the sampler or your track only, or 3) the whole shebang. The new Roll Sampler allows real-time sampling using 4-Roll Effects: Roll, Reverse Roll, Pitch Up Roll and Pitch Down Roll.
The 600 was known for its effects, not because they were so sonically sweet sounding, but because Pioneer understood that for an effect to really "work" in a DJ set, it had to be in tune with the music. Thus, almost every effect sync'd to the current BPM to seamlessly incorporate the modulation into the mix. For the 700, Pioneers touts nine effects: Delay, Echo, Transform, Filter, Flanger, Phaser, Reverb, Robot, and Crush. The Crush effect, which debuted on the DJM-800, is included in the 700, but now with an added LFO that sweeps the bitcrusher through its full spectrum, while locked to the beat.
Pioneer also turned the mixer into a MIDI controller, keeping up with the current industry trend. With 49 MIDI assignable knobs, faders and switches, the DJM-700 can be used to control external DJ software, soft synths and AU/VST plug-ins running on a Mac or PC. Together with the new on/off MIDI send control, MIDI data can be turned on/off allowing a DJ to incorporate mix software into their sets.
Additional Features:
• Digital Output Terminal: Supports 96 kHz/ 24-bit sampling rates
• Cross Fader Assign: Quickly assign channel inputs to the cross faders.
• Optional rotary kit
• 3-Band Equalizer: –26db to +6db range for fine-tuning high, mid and low bands.
• Fader Curve Adjust: Enables you to modify the cross fader/channel fader curve
• Talk Over: Lowers volume automatically so a DJ/MC can talk over the track
• Peak Level Meter: Allows you to examine the peak input level for each channel
• Fader Start: This allows the DJM-700's cross fader or channel faders to control playback when connected up to a Pioneer CDJ player — wedding DJs rejoice!
We can't tell you much more since once you remove the flowerly language from their materials, there's not much left…but we're going to contact the European division of Pioneer to find out additional information for you about the MIDI implementation and the architecture of the Digital output.
The Pioneer DJM-700 will be available in Black or Silver, no official pricing has been announced. For more information about Pioneer's DJ products hit the European Pioneer site, the North American version is weak at best, and is the quintessential example of Style over Substance.