Bose Unveils SoundDock Portable – iPod Digital Music Sound System
Bose has quitely announced the SoundDock Portable, a new digital music system for the current iPod family: iPod photo, iPod mini or iPod nano. It's smaller than the original SoundDock, and sports a new remote, retractable dock, lithium-ion battery and an auxiliary input.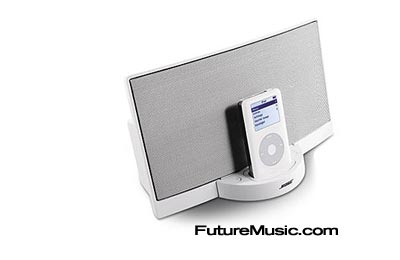 Features:
• Bose proprietary acoustic design
• Retractable Docking cradle/charger
• Compact
• New Infrared remote
• Active electronic equalization
• Patented integrated signal processing
• Digital signal processing circuitry
• Compression circuitry
• Shielded speakers
• Auxillary Input
• Battery or AC powered
The new Bose SoundDock Portable will be available in October in either high-gloss white or black, and will cost a tidy $399. More information on the Bose SoundDock Portable.