Roger Linn Designs Updates AdrenaLinn To Mark III
Roger Linn Designs has updated their AdrenaLinn to mark III status. The III is the next gen of the AdrenaLinn pedigree that features guitar effects beat-synced to the onboard programmable drum machine or MIDI. The AdrenaLinn III expands on the Adrenalinn concept with a wide variety of unique modulation and delay effects, including innovative looped filter sequences. The new model adds reverb, compression, tuner, enhanced modulation effects and brings the number of amp models up to 40 (including 4 bass amps) with improved tube emulation, presence and tonal accuracy.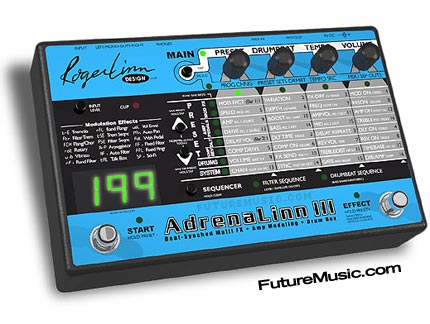 New MIDI enhancements permit control of nearly all settings from MIDI foot switches and expression pedals, and the functions of the 2 panel foot switches may now be reassigned. User presets and drumbeats are doubled to 200 each and come filled with inspiring new examples of why this unique idea-creation box has earned the praise of Eric Clapton, John Mayer and many others.'
Enhancements:
• Tuner
• Stereo reverb
• Compression
• 40 amp models, all enhanced for accuracy, presence and improved tube saturation
• User presets increased to 200 + great new sounds
• User drumbeats increased to 200 + great new beats
• Right foot switch is now named Effect and may be assigned per-preset to enable any specific effect or combination. Functions of both foot switches may be reassigned
• Greatly enhanced MIDI pedalboard control: up to 10 MIDI footswitches and 2 MIDI expression pedals may be assigned to control nearly all internal settings and commands
• A variable Amp Drive Boost has been added, actuated by panel or MIDI foot switches
• Stereo width of modulation effects and delay are now adjustable
• Envelope attack & decay times are now adjustable for random filter and random tremolo effects
• Four new Modulation Effects are added: Auto Pan, Wah Pedal, Fixed Filter and Sci-Fi
• Simple guitar amp distortion now exists for drumbeats, independent of guitar amp models
• Internal drums may be triggered from MIDI
• Variable- frequency lowpass filters have been added to output of amp models, delay & drumbeats
• Improved drum sounds
• Noise gate is improved to be virtually unnoticeable
The Roger Linn Designs AdrenaLinn III retails for $499, or $375 if you buy it directly from their site. If you already own an AdrenaLinn or AdrenaLinn II, you can upgrade it to AdrenaLinn III for $99. If you purchased a new AdrenaLinn II or AdrenaLinn II Upgrade Kit after May 1, 2007, you may purchase the AdrenaLinn III Upgrade Kit for only $49. More information on the Roger Linn Designs AdrenaLinn III.