Verizon Debuts Motorola Q 9M Music Phone
Verizon Wireless, who was recently in the news at the wireless partner for the Rhapsody/MTV joint, is now offering the Motorola Q 9M music mobile. The new Q touts multimedia features, OTA capabilities and full access to V Cast, Verizon's ringtone, video, and song download ecosystem. Unfortunately the Q is hampered by a slow processor, and further handicapped by running Windows Mobile 6, an operating system that looks Jurassic compared to the OS on Apple's iPhone. The Motorola Q 9M Music Phone also includes stereo speakers, a microSD slot, a color screen, and support of various audio and video codecs.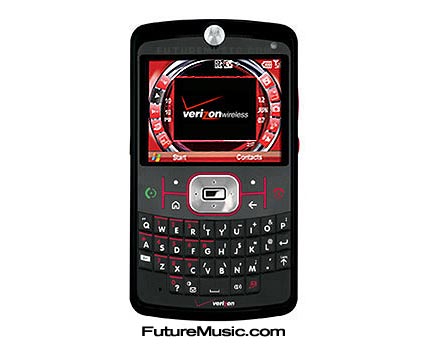 Features:
• BroadbandAccess
• Bluetooth
• NationalAccess
• Color Screen
• Email
• Picture Messaging
• QWERTY Keyboard
• Removable Memory
• Speakerphone
• Text Messaging
• V CASTsm Music (2 Million Song Catalog)
• Video Messaging
• Voice Dialing
• Windows Media Player
• Windows Mobile OS
• Two home screens (standard and multimedia) with easy toggle
• EV-DO access for fast downloads of data, e-mail and large attachments
• Pocket Internet Explorer for Internet access
• Wireless Sync for anytime connectivity with e-mail, calendar and contacts synchronization
• 1.3 megapixel camera with flash
• Dual, stereo-quality speakers
• Compatible with up to 32GB miniSD storage for pictures, videos, music, and sounds
• 2.5mm headset jack
• Standard battery: 1170 mAh
• Usage time: up to 272 minutes (approx.)
• Standby time: up to 212 hours (approx.)
The Q 9M lists for $349. More information on the new new Motorola Q 9M Music Phone.