Syntheway Releases ElectriKeys
Syntheway has released ElectriKeys, an Electric Piano emulation based on vintage Fender Rhodes MK1, Hohner Clavinet D6, Wurlitzer and Yamaha CP-70 electric pianos. The price of 35 beans is certainly more enticing then the interface you see below.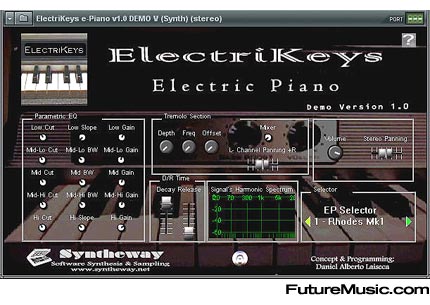 Features:
• Hybrid synthesis and sampling sound engine
• Tremolo Section: Recreates the classic effect. Contains a LFO (Low Frequency Oscillator) with modulation depth, frequency and offset. The panning slider controls the output effect distribution between left and right speaker and to help create a broad spectrum of stereo tremolo effects.
• 5-Band Parametric Equalizer: EQ composed of five parametric filters with Frequency, Bandwidth and Gain knobs.
• Decay and Release Time.
• 32 presets for Tremolo effects and Parametric EQ ready to play.
• Full MIDI Automation: Complete MIDI Continuous Controller. Every parameter can be controlled via MIDI or host automation.
Syntheway's ElectriKeys is available now for $35 as a VST instrument for Windows. More information on Syntheway ElectriKeys.