Weekend Fun: Brush & Rinse
Amron Experimental is featuring a unique proposition on its enterprising website: the Brush & Rinse, a toothbrush feature that creates a water-fountain-effect to rinse your mouth.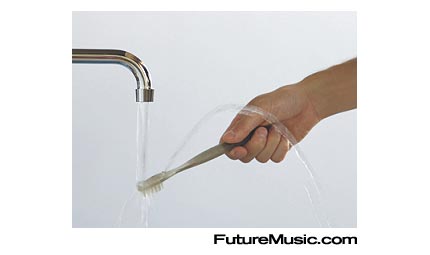 The concept behind the Brush & Rinse is insanely simple: incorporate a spoon-like divot into the back of the toothbrush head so you don't have to perform faucet fellatio.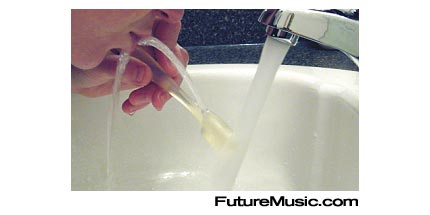 The inventor obviously had the moment of epiphany after becoming fed up with the traditional methods for rinsing:
"Current methods of getting water into our mouths for rinsing after brushing are sloppy…no one should be using disposable cups for rinsing after brushing. No one should have to wash a glass or cup everytime they rinse. No one should have to lap water from their hand. No one should be forced to slurp excess water from toothbrush bristles."
We couldn't agree more, and the simplicity of the idea brings a smile to our faces everytime. The effortless inclusion of a concave mold on the unused back of a toothbrush solves a problem that people have been faced with for years, and invokes the ol' "why didn't I think of that??
The Brush & Rinse toothbrush has a retail price of $3. However, you can't actually buy it for 3 bucks from Amron Experimental. They're only selling the working prototypes for $1750. More information on the Brush & Rinse.