Velodyne Announces MicroVee – 1200 Watt Miniture Sub
Velodyne has announced the MicroVee, a miniture subwoofer that pumps out a whopping 1200 watts Dynamic / 600 watts RMS of power through a ERS class D amplifier. The company positions the new product for consumers who want "room-pounding bass from a room-friendly box" — which translates into: how does a bloke get fat bass sound in his home stereo setup without invoking the wrath of the harpy. Well Velodyne feels your pain…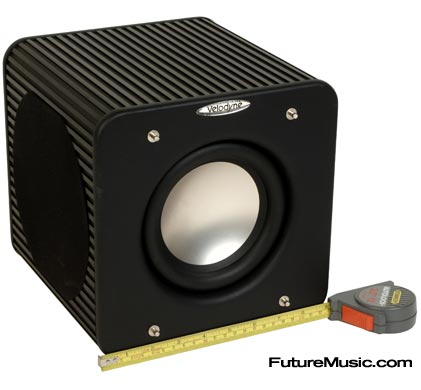 The MicroVee packs the latest generation of their patented digital amplifier with a triple-driver system, into a 9″ square cube.
Features:
• Drivers: active 6.5″ forward firing anodized aluminium cone (5″ piston diameter) 2 x 6.5″ side-firing passive radiators with aluminium cones (5″ piston diameter)
• ERS class D amplifier: 1200 watts Dynamic power, 600 watts RMS
• Frequency response: 38-120 Hz +/-3 dB
• Digital Dynamic Driver Control
• Phase: 0 or 180 degrees (selectable)
• Low-pass crossover: 50 Hz – 200 Hz (adjustable), 12 dB octave, 48 dB ultimate
• Auto on/off: yes
• Magnet structure: 1.8kg
• Voice coil: 2″ dual layer
• Inputs: speaker-level, mini-jack and gold plated line-level
• Outputs: speaker-level (120 Hz high-pass crossover), mini-jack (through)
• Subwoofer direct (crossover bypass)
• Cabinet (hwd) includes grill: 22.9 x 22.9 x 24.4 cm
• Warranty: electronics – 3 years (parts/labour) / driver – 5 years (parts/labour)
• Weight 9.1Kg
Velodyne's MicroVee will be available in black or white in September for £575. More information on the Velodyne MicroVee when they update their website.