Electrix Announces Virtual Repeater Pro Software
Electrix, a division of SBD Music, Inc., has announced the New Virtual Repeater Pro, which will bow at the Plasa show in London. Electrix, a concern that seems to have nine lives, claims that the new software for Mac and PC brings many more sonic capabilities to the DJ.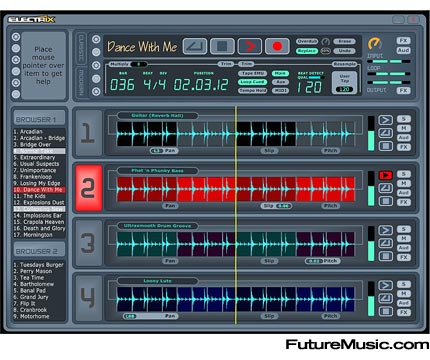 The re-re-re-launched Electrix brand is dedicated to supporting the existing Repeater product as well as developing new products. Their first product, VirtualRepeater, delivers a Graphical User Interface experience that is simple, intuitive and powerful. It complements the existing UI with new graphical ways of interacting with loop material, allowing artists to see and interact with their audio flow – in real time.
Features:
• Clean, dynamic, clean, fast and intuitive GUI
— Classic and Modern control panel styles
— Track controls for gesture control and visual feedback of loop track behavior. A whole new way of looping.
— Integrated single-pane loop browsing.
— Simple, clean, intuitive access to all controls. No menus to wade through.
• Help Feature
• Rock-solid beat detection; from picked guitar to four-on-the-floor VirtualRepeater hears you and locks on.
• Real-Time Time stretch
• MIDI and user-controlled sync modes for synchronization.
• Multiple loop tracks with independent control:
— Slip; offset by fractions of a beat or whole bars. From slap-back to telephasic mayhem.
— Pan; true stereo control.
— Pitch; From subtle thickening to chipmunks. Fractions and whole semitones.
— Play, stop, reverse. Tracks play against each other as you want them to.
• Effects; VST input, output and track inserts
• Multiple output busses.
• Seamless real-time loop cueing.
"It was a highpoint of my career to lead the development of the Electrix Repeater; a 13 month gestation involving guitar, bass, techno/trance, folk, outstanding design, late nights and six really smart people really cooking in not very much space to make it happen. A great experience – we are all still very proud of what we built. With VirtualRepeater I am getting the chance to put the icing on the cake." Don Goodeve, technical lead – Electrix Repeater, project lead – VirtualRepeater.
In addition to Virtual Repeater Pro, Electrix also confirmed plans to release second-generation models of their original hardware gear with the same build quality, but with elevated sonic characteristics and new features in 2008. They've been teasing the industry with these claims for some time, so we'll just have to wait and see…
Repeater 2: Features and ease-of-use make Repeater 2 the ultimate tool for Loopers, Song Writers and Creative Live Performers.
FilterFactor 2: Run keyboards, samples or guitar tracks through the Filter Factory 2 and you'll get everything from thick, retro filter sweeps to sub harmonic rumblings or even tweeter-shredding mayhem. Four Filters types include Low pass, High Pass, Band Pass, and Notch filters. LFO (low frequency oscillator) with beat divisions syncable to tap tempo or MIDI clock.
Warp Factory 2: Make any sound speak! Simply plug in a microphone to use the built in oscillator for the classic vocoder voice. Or combine any two signals to create human-like, "intergalactic" sounds. 24 intelligent filter bands deliver incredible sound clarity. Front panel mic input and built in oscillator equals plug n' play vocoding.
MOFX 2: MO-FX 2 makes it easy to synchronize time-based effects. Synchronizing – Flange, Tremolo, and Delay just got as simple as tapping in a tempo or sending MO-FX MIDI clock. Sculpt your sound without losing the beat! Analog modeled Distortion will take you from subtle warming to total crunching mayhem.
Electrix's Virtual Repeater Pro software will debut at Plasa; no pricing or availability has been announced. More information on Electrix Virtual Repeater Pro.