PreSonus Announces MegaStudio Producer
PreSonus has announced MegaStudio Producer, an audio and video production studio with FP10 10×10 FireWire recording interface and $2,000 worth of music and video production software incorporated through several software partnerships. In addition, MegaStudio Producer includes five free uploads to iTunes from TuneCore, as well as a free BroadJam.com membership and a complete "Go Pro" guide with information on sharing, distributing and selling your music and videos.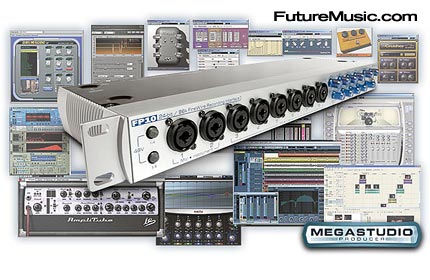 Features:
• High-Speed FireWire audio interface
• Professional 24-bit/96k sampling rate
• 8 Class A XMAX microphone preamps (2 instrument inputs)
• 8 analog line outputs
• S/PDIF input/output, MIDI input/output
• Zero-latency monitoring
• Daily-chain up to three FP10's for 24 simultaneous microphone/line inputs
• Mac and Windows (XP and Vista) compatible
Included Software
• Steinberg Cubase 4 LE: 48-track audio recording and production software
• Sony Vegas Movie Studio + DVD Architect: Multitrack video and audio editing software and DVD creation software
• Propellerhead Reason Adapted: Synths, Sounds, Loops
• Drumagog LE: Drum replacer
• BFD Lite: FXpansion's virtual studio drummer
• Ultra Analog Session: Synthesizer
• PreSonus VI by SoniVox: Virtual sample instrument
• Lounge Lizard Session: Vintage electric pianos
• IK Multimedia's Amplitube LE: Virtual guitar amplifier
• KeytoSound: General synthesizer
Real-time effects plug-ins
• MasterVerb (Mono and stereo reverb)
• EyeQ (Graphic EQ and spectral analyzer)
• Chamberverb (Reverb)
• Track Plug LE (Channel Strip)
• Camel Crusher (Compressor)
• PitchCraft (Pitch correction)
• FuzzPlus 2 (Guitar effect)
• SFX Machine (Virtual synthesizer)
• Pluggo Jr (12 real-time effects plug-ins)
Drum Loops & Sound Effects:
• Sony 1001 Sound Effects
• Discrete Drums PreSonus Edition
• Cycling 74 loops
• Twiddly Bits
MegaStudio Producer also comes with Sony CD Architect, a House of Worship Video Toolkit from CCI Solutions, and the TuneCore.com album upload and free BroadJam.com membership. MegaStudio Producer also includes four hours of instructional videos on the following topics:
• Cubase LE4 Demystified
• Sony Vegas Movie Studio Training by VASST
• How to recording a song using the FP10
• How to make a live recording and video with the FP10 and Sony Vegas
• How to make a music video with Sony Vegas
• Mixing a song in Cubase LE4
• Distributing your music on TuneCore
• Tour: Smart "Go Pro" Guide written by Martin Atkins
• House of Worship Toolkit by CCI Solutions
PreSonus' MegaStudio Producer will be available in stores September 1, 2007. More information on PreSonus MegaStudio Producer.