Limited Run Of ReacTables Available Soon?
The ReacTable may soon be available for purchase. Developed by four PHD students two years ago at Barcelona's Pompeu Fabra University, the ReacTable consists of blocks, each marked by a hieroglyph-like indentifier, on a touch-sensitive surface with a projector underneath. Each block represents a sound modifier based on an analog synth, such as an LFO, filter or ADSR which then controls the sound playback.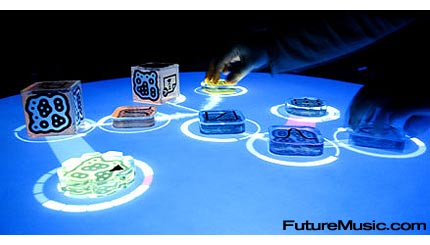 Users move, rotate and flip the blocks, run their fingertips over the tabletop's surface and alter the blocks proximity to each other to change the music produced. A camera beneath the table constantly analyzes the movements above, while the projector controls the visuals on the surface that represent the movements in real-time.
ReacTable's sudden popularity can be attributed to Björk who utilized the ReacTable on tour this year after seeing a demo of it online. The sudden outpouring of interest has the inventors contemplating going commercial. But don't expect to see it at your local Wal-mart. It's most likely to be available as a limited run within the year…
More information on the ReacTable.