Apple Updates iLife To Version '08 – Introduces Magic GarageBand
Apple has updated iLife to version '08, featuring a major new version of iPhoto, a completely reinvented iMovie, and the new Magic GarageBand.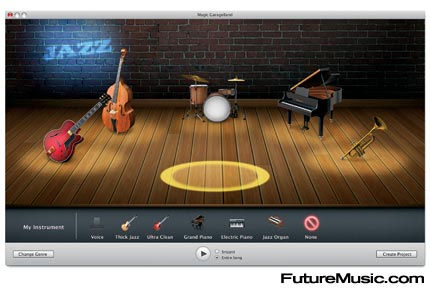 GarageBand '08 introduces Magic GarageBand, an easy and fun way for musicians and non-musicians alike to create a song. Users can pick from nine musical genres and interact with a band of players on a virtual stage by selecting an instrument and musical part for each player to create thousands of possible song combinations. Users can play along with a built-in software instrument or record their voice to sing along to their own music. The new GarageBand also offers powerful new features for more advanced musicians, including multi-take recording to capture the best performance, arrangements to cut, copy and paste intros, verses and choruses, and support for 24-bit audio interfaces.
iPhoto '08 automatically groups all photos into Events, each containing a day's worth of photos represented by a single picture. Users can simply move their mouse over an Event to instantly skim through all its photos. Users can split a single day's event into multiple events, such as a birthday party in the morning and a wedding in the evening, or merge events on multiple days into a single event, such as a weekend ski vacation. Users can hide photos they don't want to see every day but don't want to throw away, and a unified search allows users to instantly find all their photos across all Events by rating, date and keywords.
With iMovie '08, Apple's movie-making software has been completely reinvented to let users rediscover and enjoy their video library, make movies in minutes instead of hours, and share their movies with family, friends or the entire world in a snap. iMovie '08 can import video from the latest AVCHD, HDV and DV camcorders, as well as from digital cameras, and displays a user's entire video library whether it's stored on internal or external drives. Users can preview any of their video clips by simply moving their mouse over the clip to "skim" through it forward or backward at any speed, including faster than real time. Users can select video as easily as selecting text, make a movie by simply dragging the selected video into a project, then easily add a soundtrack from iTunes, voiceovers, and elegant effects and cinematic titles. iMovie '08 makes it as easy as a few clicks to enjoy your movies on an iPod, iPhone or Apple TV, or share with the entire world on YouTube.
Apple's iLife '08 is available now for $79 through the Apple.com Store, as well as Apple's retail stores and Apple Authorized Resellers. More information on iLife '08.