Livid Instruments Premiers Cell VJ Software
Livid Instruments has premiered Cell, a new VJ program optimized for touch-screen computers. Cell provides an intuitive, touch-screen interface with effects and realtime control, making video performance spontaneous, hands-on and fun. Features include, real-time effects, live video input, large clip libraries, and playback manipulation such as; scrubbing, speed, loop, and reverse play. MIDI integration allows it to be controlled with almost any MIDI device on the market. However, the best feature of Cell may be its low price.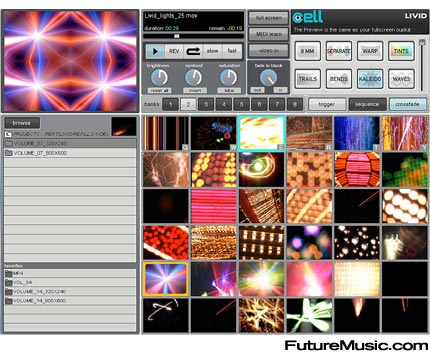 Cell VJ software allows you to simply drag files into the Clip Bank and start your performance by clicking on one of up to 36 clip previews. Alter the playback, speed, direction, and loop videos, images, and audio files with a few simple controls. As you chose additional video clips, they automatically transition on your output. Cell allows you to instantly add effects to your video output with the click of a button. Use the effects slider to control the look and feel of the effect. Powerful OpenGL effects like kaleidoscope and 8MM can be applied to video clips, live camera feeds, and image files to give you a unique and ever-changing video performance.
You can also completely control your presentation or performance with almost any MIDI controller. Use MIDI messages to trigger videos, add effects, scratch, and control live camera feeds. The simple MIDI learn function allows you to map almost any MIDI parameter, giving you complete hands on control for real video performance. You can also synchronize your other applications with MIDI to control multiple software programs with one controller.
Cell's extra large Clip Bank lets you view all of your clips and organize them for automated playback and sequencing. You can choose to sequence your videos, images, and audio files with transitions and effects for complete automation. Cell's file browser lets you view and preview all of your files in one central location before brining them into your project. Cell also automatically saves all of your changes and has the ability to archive projects to easily move from one computer to another.
Livid Instruments' Cell is available now for both Mac OS X and Windows XP, and costs only $99. A demo version is available for download. More information on Livid Instruments Cell.