Crate Unveils Profiler 5 Mini USB Guitar Amp
Crate has unveiled the Profiler 5 mini USB guitar amp. The 5 has features built-in digital effects processing including amp modeling, and USB connectivity, for recording directly into your computer. Dual battery and AC power provides the ultimate in portability. If the tones can compete, this will definitely give the new Line 6 Pocket POD a run for the money.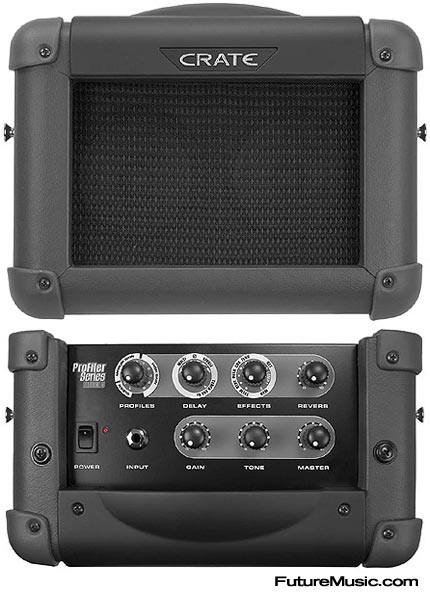 Features:
• 11 amp profiles, including: Clean, High Watt, Vintage Club, Top Mount, plus Acoustic guitar
• 2.5 watts per channel stereo output
• 2 x 4″ speakers
• USB output for easy recording
• DSP effects with Crate Channel Tracking and including delay, modulation and reverb effects
• Gain/tone/level/profile-select controls
• CD/MP3 player stereo input jack, Headphone jack
• Mackie Tracktion 2 recording software included (PC & Mac)
• Battery and/or AC power
The Profiler 5 measures less than eight-inches tall and weighs six-pounds. There's also an auxiliary input for jamming with your iPod.
The Crate Profiler 5 is available now for $159.99. More information on the Crate Profiler 5.