Weekend Fun: The Bikeboard
A Hospital Bill Bikeboard For Every Season!
Well, you know how we love innovative new gear, and if you've been reading FutureMusic, you also know how we love new technology that assists you in getting sent to the Emergency Room in the shortest possible time. So without further ado, we bring you The Bikeboard in this segment of Weekend Fun.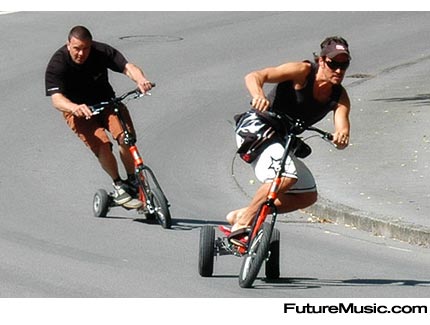 The Bikeboard, created by a Swiss concern, comes in four flavors: Street, Offroad, Snow and Water. It was invented by Viktor Borsodi, a graduate in Gym and Physical Education of the Swiss Federal Polytechnic Institute II, first as the Snowscoot, and then it evolved into a modular and portable design thanks to the influence of several supporters. Eventually a company was solidified in 2005 with the goal of world domination. The Bikeboard does sport some cool features including a monoshock and disc brakes (see inset below).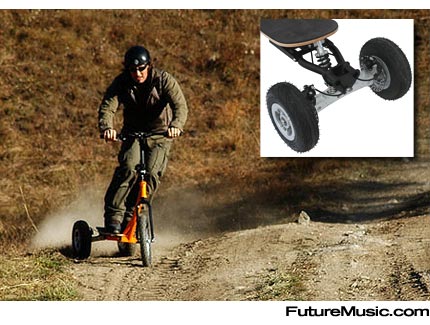 Actually, we think this whole concept was conjured up by the Swiss Orthopedic Association who decided that skiing, snowboarding, and mountain biking weren't bringing in enough patients to their practices. There seems like there's no better way to bang yourself up, then getting on a Bikeboard, pointing it downhill and letting gravity do the rest.
However, if this does sound like fun to you, the company is actually looking for "representatives" in North America to pimp this action to the masses.
The Bikeboard will set you back $998 beans. More information on the Bikeboard.