Weekend Fun: Duke Riley Launches Revolutionary War Era Sub In Brooklyn
Art Project Or Informal Tryout For The Cast Of Jackass
You Be The Judge!
Duke Riley, a GenX "artist" with the obligatory bad tattoos covering most of his soft frame, pulled an idiotic "performance" this week by creating a revolutionary war era submarine out of plywood, fiberglass, rocks and a lot of spit, and then "attacking" the Queen Mary while docked in Brooklyn. Well, I'm sure you know how this one turned out. No, he didn't take the usual dirt nap, but he did end up in the embracing arms of the New York Police Department who plucked him from the water, and tossed his wet, slimy ass into the slammer.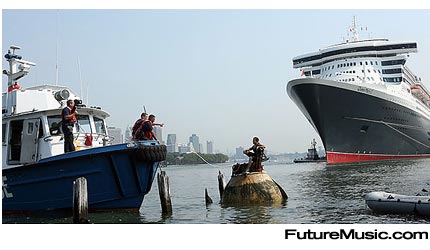 Riley does have his fans. Most people in the NYC art community chuckle when his water based performance art projects are mentioned since most end with the punchline of his swift arrest. Riley spent the last five months building the Turtle, a "replica" — although I think that does the original inventors a disservice — of what some believe was the country's first military submarine. Although that claim is disputed since several historians believe the whole Turtle story is one of fiction.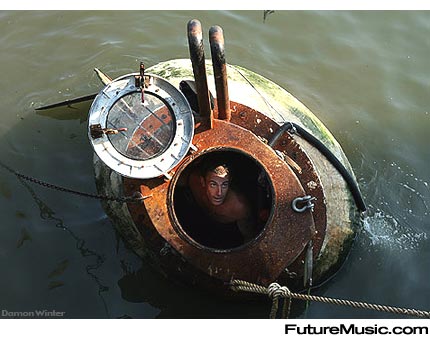 Riley, with the help of three mentally-challenged friends, hoped to travel through the Buttermilk Channel to the Queen Mary 2, which had just docked in Red Hook, and then film himself using the ship as a backdrop for an coming gallery show.
But as you can guess, that all came to a screeching halt when an army of New York City police swooped in on the trio using helicopters, boats, and even a HazMat truck. The three were instantly taken into custody. The police originally believed a terrorist attack was under way, but that diagnosis was promptly dismissed when the authorities took a gander at Riley and his, ah, "craft." Police Commissioner Raymond W. Kelly dubbed incident "marine mischief," but still impounded the Turtle.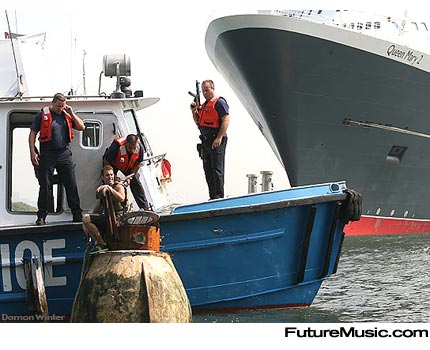 The Coast Guard then cited Riley and his two companions, Jesse Bushnell and Mike Cushing, for violating the QE2's 100-yard security zone. The police then added insult to injury by ticketing the trio for "unsafe boating."