Transcend Announces T.sonic 840 Digital Media Player
Transcend has announced the T.sonic 840 digital music player. The 840 is your basic meat'n'potatoes MP3 player with a couple of nice twists.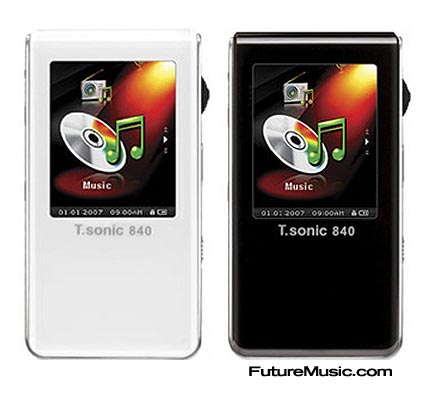 The 840 supports the MP3, WMA, WAV, WMA-DRM10 audio formats, as well as JPG and BMP images, and sports a simple 1.8″ TFT-LCD screen (176 x 220 pixels). It comes in two storage flavors: a 2 GB white, and 4 GB black. Nothing special… However, Transcend claims the T.sonic 840 has 30 hours of battery life, something of a milestone if true.
Features:
• 1.8-inch (176 x 220 pixel) Super Color LCD Display for Playing Videos and Photos
• Plays Music, Video (.mtv) and Photos (.jpg, .bmp)
• MP3 Player supports MP3, WMA, WMA-DRM10 (subscription music) and WAV music formats
• FM Radio with 20 presets
• FM Radio recording
• Advanced Digital Voice Recorder
• Ability to read E-books (.txt)
• Karaoke-type lyrics display
• Supports 13 user languages including song/artist name display
• Powered using a rechargeable Li-ion battery (30 hours of continuous music operation claimed)
• Real Time Clock (RTC) displays local and world times
In addition, it features a lyrics display for Karaoke action, and is equipped with 7 equalizer effects that include a customizable User EQ mode. Yes! The 840 also provides a FM radio, FM recorder, real time clock to display world times, can read eBooks, and has a 13-language interface.
The device also contains a full featured digital voice recorder with many unique attributes including language-learning. It has adjustable playback speed, great for reviewing recorded lectures, and an A-B repeat function. As you listen to your recorded file, you can adjust the speed on the fly and repeat a given section with the push of a button. The built-in Hi-Speed USB 2.0 connector provides quick charging and data transferring.
The Transcend T.sonic 840 is available in two models: 2GB Glacier White and 4GB Mystery Black for about $125 and $175 respectively. They are available now in Europe and will be in the States this fall. More information on the Transcend T.sonic 840.