Creative Quietly Upgrades ZEN V Plus To 16GB
Creative is now offering a 16GB Flash memory version of their Zen V Plus MP3 player. The roll out has been on the down low, which is strange since this is the first 16GB Flash player on the market.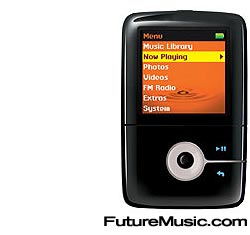 One of the reasons could be the very limited quantities of 16GB Flash memory available, but you'd think they'd want to trump Apple, their long-term rival, with an announcement. According to the Asian version of the Creative site, the 16GB model is selling for SGD$399.99, which translates to about $265 bucks. Expect to see the 16GB model available in Europe and North America sometime this Fall.
More information on the Creative ZEN V Plus 16GB.