Roland Announces SP-555 Sampling Workstation
Roland has released the SP-555, a Sampling Workstation complete with 16 velocity sensitive pads, 37 Fantom-quality effects, a new Loop Capture function, and total computer integration with USB MIDI/Audio connectivity.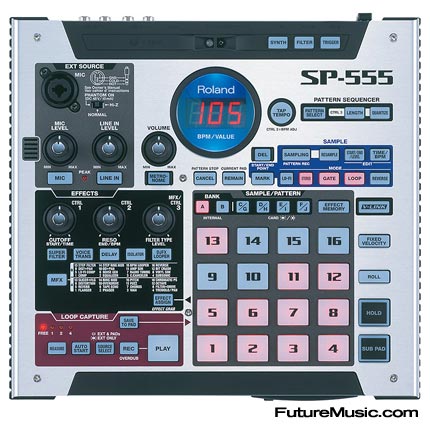 Created for DJs, loop based performers and sampler junkies alike, the SP-555 model offers customers a simple and stress-free approach to beat-making. The new Loop Capture function (basically a hardware version of Ableton Live's ability to sample on the fly —Ed.) allows users to sample live audio from the 555's inputs with real-time effects tweaks. Additionally, artists can connect a footswitch to the SP-555 to activate the Loop Capture allowing them to stack individual parts on top of one another (JamMan action?? —Ed.). The SP-555 makes it easy to build-out phrase loops in real time by simply activating the Overdub Mode.
The SP-555 boasts an expanded internal memory with almost six minutes of stereo sampling time, or to compact flash cards up to 2 gigabytes in size, for a total of over 12 hours of sample time. Like all other SP models, the 555 streams audio in real-time directly from the Compact Flash card, preventing any audio flow interruptions.
The 37 Fantom-quality effects include Voice Transformer, Delay and Isolator, and brand new effects like Super Filter, Amp Simulator Step Ring Modulator and DJ FX Looper. The SP-555 can save custom effects settings to the Effect Memory section and recall patches directly from the pads. In addition to the button and knobs, the SP-555 also contains Roland's proprietary V-Link and D-Beam technologies giving beat makers new and organic ways to tweak their samples in a live setting, or in the studio.
Features:
• Ultra-easy sampling with innovative Loop Capture feature
• Versatile sampling through Line input, phantom-powered Mic input, USB audio streaming, and WAV/AIFF import
• Dozens of performance effects, including Super Filter and DJFX Looper
• Audio interface capability with any DAW or DJ audio application
• Cakewalk SONAR LE included
• Large Sample Memory via CompactFlash (up to 2GB)
• Bundled Wave Converter software (Mac and PC) for importing and exporting WAV/AIFF files
• Infrared D BEAM controller and V-LINK compatibility for high-impact performance
• Maximum Polyphony: 12 voices
• Sampling Frequency: 44.1 kHz
• Conversion: A/D – 24 bits, D/A – 24 bits
Thanks to the onboard USB-MIDI/Audio and bundled Cakewalk SONAR LE and Wave Converter software, artists can easily fly beats and sounds back and forth from their laptops with stress-free ease. In addition to the newest enhancements, the SP-555 shares the same standard feature sets and functions found in the SP-404, including tap tempo, a low-fi sampling mode, and onboard mic and I/O.
The Roland SP-555 should retail for around $900. More information on the Roland SP-555.