Blaupunkt Releases Velocity 2Go 6
Blaupunkt has released the Velocity 2Go 6, a hybrid car subwoofer slash boombox. When installed in a car, the Velocity 2Go acts as a powerful 160 Watt subwoofer. However, the Velocity 2Go can be easily removed from the vehicle to be deployed as a stereo boombox when connected to an audio source via a minijack or RCA, or with an iPod thanks to the cradle on top.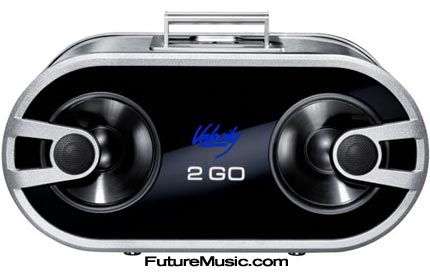 While under portable battery power (eight AA's), the speaker only outputs 60 Watts, but may still give you that bass you crave.
Features:
• RMS power 80 W
• Max. power 160 W
• Frequency response 40 – 120 Hz / 40 – 25.000 Hz
• Inputs RCA / High-Level / Aux
• Power supply 12 V / 230 V / rechargeable battery (optional)
• Dimensions 480 x 220 x 240 mm
• Weight 7.0 kg
The Blaupunkt Velocity 2Go 6 will sell for about $600 beans. A smaller version, the Velocity 2Go 5 model is also available for about $500. More information on the Blaupunkt Velocity 2Go 6.