Sony Announces Network Walkman NWD-B100 Player, No ATRAC
Sony has officially announced the Network Walkman NWD-B100, a step that marks obvious concessions to the digital music industry's new leaders.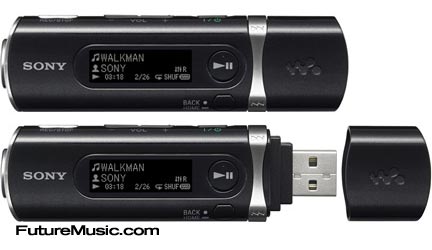 The first rollout will be next month in Europe, then Asia, and then North America, most likely in time for the holiday season; no pricing has been announced. The sleek digital music player (DMP) comes in two storage flavors: 1GB (NWD-B103 / B103F) and 2GB sizes (NWD-B105 / 105F), and sports a 3-line color LCD, a FM tuner, a voice recorder with mic, and a claimed 12 hours of battery life (Of course, you're mileage may vary!)
The biggest aspect of this announcement is that the NWD-B100 models do not include Sony's proprietary ATRAC compression scheme. It will play MP3's and WMA files only. This comes on the heels of rumors that Howard Stringer, CEO of Sony, will be shuttering Sony Connect and ultimately the entire SonicStage platform.
The Future:: The problem now with Sony, is that they have lost the imagination of the consumer in the portable music electronics market, something they created and dominated for a number of years. What is amazing is that the "Walkman" name has so little currency in the marketplace. The Walkman was, what the iPod is today. The company has had serious trouble coming to that reality, because it is such a tough loss. With the iPod's domination of the market, Sony has to dig deep and look into the murky future. What's next? How are people going to be experiencing and enjoying music in 2010? Build that, drop the losers.