MOTU Releases MachFive 2
The Dungeons & Dragons crazed folks at Mark Of The Unicorn (MOTU) have updated MachFive, their multisided dice take on music sampling, to version 2.0. MachFive 2 merges four worlds of advanced sound design: samples, loops, synthesis and effects. The program allows you to import, edit, synthesize, process and play multi-sample instruments, loops and phrases in MachFive's unified environment.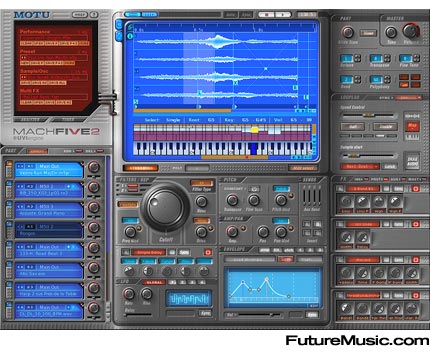 Features:
• Unique, unified design provides instruments, loops, phrases and synthesis in one window
• Second generation 32-bit UVI Engine, superb sound quality up to 24-bit/192kHz
• Unlimited parts (unlimited multi-timbral operation)
• Unlimited polyphony and ultra low software latency
• Unlimited sample keygroups and keygroup layers
• Up to 200 discrete audio outputs (depending on host)
• Up to 256 MIDI channels (depending on host)
• Three-dimensional layered keygroup mapping with unlimited layers and dynamic, programmable-rule-based layer switching
• Built-in graphic mixer with faders, FX inserts, metering and unlimited channels
• Disk streaming; can be enabled per part
• New modular synthesis architecture with two synth engines (organ drawbar and vintage analog); program and play synth sounds side by side with, or as part of, your multi-layer sampled instruments
• Powerful modulation matrix with controller mapping
• Multi-point envelopes with unlimited control points; sync envelopes to the host tempo
• Drag and drop audio import/export
• Advanced time-stretching and pitch-shifting engine
• LoopLab beat-slicing editing of multi-channel loops; playback at any tempo with or without stretching; sample, stretch, and slice loop engines
• Full-screen keygroup/sample editor with unlimited undo/redo, batch processing, and 47 DSP effects
• Multichannel surround support with multiple outputs
• Plug-in or stand-alone operation
• Multi-column browser for fast and easy navigation; audition loops & samples while browsing
• 47 built-in effects with hundreds of presets
• Support for multi-effects with over 100 multi presets
• Flexible effects architecture; apply effects at any level, from individual samples up to the entire mix
• One-click MIDI controller mapping for nearly all settings
• Automatic keyboard mapping of imported samples via advanced pitch-detection and velocity algorithm
• Supports all major 3rd-party hardware and software sample library formats
• Reads other sample formats directly from disc – no time-consuming importing required
• Reads GigaStudio libraries directly, including multi-layer instruments ("dimensions")
• Mount non-Mac/Windows sample CDs on your desktop and then read sounds directly from disc image
• Includes 32GB (four 8GB DVDs) of ready-to-play instruments, loops and phrases
• Drag and drop import of all major audio file formats including WAVE, AIFF, SDII, REX, Apple Loops
MachFive 2 is available for Windows and Mac OS X (UB) in AU, MAS, RTAS, VST, DXI and stand-alone versions. Upgrades from version 1 will set you back $195.00. More information on MOTU MachFive 2.