db audioware Unveils Sidechain Compressor & Sidechain Gate
db audioware has unveiled Sidechain Compressor and Sidechain Gate, two new dynamics processing plug-ins. Created to satisfy a demand for side-chain capability missing in many audio software packages, both plug-ins feature db audioware's Universal Sidechains. This technology gives the plug-ins true multi track side-chaining operation in most audio programs on Mac and PC, independent of the native routing offered by the host software itself.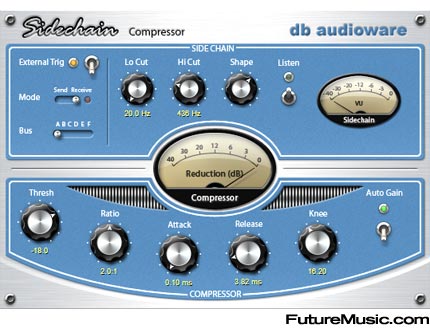 Multi track side-chaining allows one track to control the dynamics of another. Traditional applications range from broadcast voice ducking to intelligent gating of drum tracks to remove crosstalk. Sidechain Compressor and Sidechain Gate are also aimed at more creative applications such as synchronised gating and other complex mix techniques found in dance production and electronic music.
Features:
• New compression and gating algorithms that deliver an authentic analogue sound with low distortion
• Easy to set up multi track side-chaining, independent of any host routing
• Compressor and Gate plug-ins also work as normal channel insert effects
• EQ and Shape controls in the side-chain permit radical and fine tuning of the plug-ins dynamic response and character
• Compressor Auto Gain with brickwall limiter supports extreme compression settings with little or no distortion
• Dual metering for clear visual feedback
• Listen mode to monitor side-chain signal
• VST and Audio Units format for Mac OS X (Universal Binaries); VST format for PC Windows; VST 2.4 support
• Full MIDI control, with easy to use MIDI Learn
• Full 64 bit internal resolution supports any sample rate up to 192kHz
db audioware's Sidechain Compressor and Sidechain Gate are now available for download at their website. Each cost $84 / €62 / £42, or you can score them as a bundle for $126 | €93 | £63. Demo versions are available for trial. More information on db audioware's Sidechain Compressor and Sidechain Gate.